MGMT "Little Dark Age" Review – ALTWAVE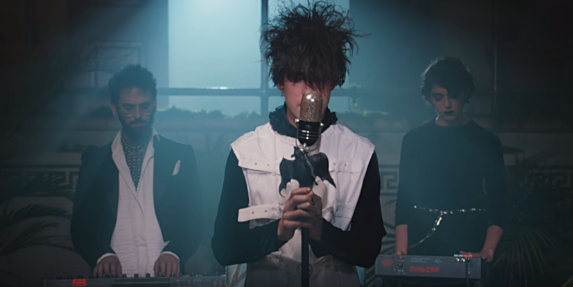 Originating from Middletown, Connecticut, MGMT is an American psychedelic rock band formed in 2002 by members Andrew VanWyngarden (lead vocals, guitar, keyboards, bass guitar, drums, percussion) and Ben Goldwasser (vocals, keyboards, guitar, percussion). The group also includes several other members who play alongside the main duo at live shows. MGMT's discography consists of three full length albums, four EPs, eleven singles, and one compilation album.
On October 17th, MGMT released the first single, "Little Dark Age", off its new album, Little Dark Age, which is set to come out sometime in 2018. This album will be the first they have put out in four years, and this music video is the first one they have made in three years.
Fans welcomed the unexpected new content with open minds, most people enjoying the song and accompanying video. Youtube user Krispy Finesse commented, "love the nostalgic feel MGMT's songs give," which has 568 likes as of right now. The music video currently sits at 1.4 million views on YouTube, a number that will likely increase exponentially as most of their music videos do. There are many comparisons in the comment section of MGMT to The Cure, a British rock band formed in 1976. The Cure's most famous songs include "Friday I'm in Love" and "Lovesong", which both include similar vocals to VanWyngarden, but unaltered.
The video opens with some pretty spooky and unsettling shots that are rife with halloween imagery. The most bizarre aspect of the video, in my opinion, is the use of fruit symbolism, specifically chopping a pineapple with with a butcher's knife.
A theme I noticed was gener fluidity, which is expressed through the lead singer and other characters' overall looks, the symbolic shots, and the editing, as VanWyngarden and Goldwasser wear makeup and flaunt painted nails along with their gender ambiguous costumes and hair styling. Among the many other characters present in the video, there are are a pair where one appears to be a man and the other a woman, even though they look very similar. They share the same long hair, of which there are comparative shots of them brushing respectively. Those shots specifically show how the line of gender is being blurred and the traditional binary system is being dissolved. My personal favorite segments are where you see the two characters in the house's heads flash with different colored lighting and expressive faces.
The song itself has really grown on me the more I have listened to it, but I was skeptical the first time I heard it because it is a little different than the majority of the music they have put out in the past. If I was to describe the new track in three words, they would be: odd, unique, and spooky.
Initially, the only thing I would have wanted to change was the way the vocals had been altered because I think that VanWyngarden has an incredible voice on his own. The more I listen to the single, which has been a lot the past fews days, the more that aspect has grown on me. I am so extremely excited for more singles and the new album to come out after hearing "Little Dark Age".  
If you're looking to get into a spooky mood for Halloween, definitely check this song and music video out. Also, if you're looking for some new music and have never listened to MGMT before, I highly recommend checking them out. If you are into bands like Tame Impala, The Flaming Lips, Passion Pit, or Empire of the Sun, MGMT should become a new favorite!