Tragedies In Newton
"You don't know what goes on in anyone's life but your own. Everything…affects everything." – Jay Asher in Thirteen Reasons Why
On Saturday, October 5, 2014 senior at North Newton High School Karen Douglas's body was discovered in the woods near her home after being announced missing on October 3, 2014. Police ruled out foul play and it was reported as a suicide.
Even more recently, on Wednesday, October 17, 2014 sophomore at South Newton High School Katherine Stack was also announced dead. Again, police ruled out foul play and reported this as a suicide.
As students in both schools and the community react to these tragic events, people start to reminisce on the lives of Karen Douglas and Katherine Stack, remembering who they were as people.
Karen Douglas was said to be "unashamedly unique" by her peers. Her mother reflected that she accepted people for who they were and that she was a generous spirit. She was a straight A student and planned to apply to and attend Brandeis University, hoping to become a therapist, influenced by the impact of the help she received from her own counselors according to her parents. Karen's family claim she always tried to help others, and was a positive girl.
Underneath this positivity was a long standing eating disorder, but Karen was receiving help for this problem, according to her parents. They provided her with everything they could to help her thrive in life.
Students were extremely affected by Karen's death, remembering her as a leader and extremely influential. She played rugby and knitted in a club in her school called The Old Grannies club. Over 100 students showed up to The Old Grannies Club to honor her on Monday, October 7 according to an article from the Newton Tab of "Wicked Local", a news website.
Unfortunately, finding information about sophomore Katherine Stack was harder, considering the recentness of her death. South Newton High School postponed their opening of their fall play, Spring Awakening in light of this tragedy. The school also had various grief counselor's ready for students upon delivering this horrific news to the students. The community is coming together and donating to a memorial fund for Katherine as well.
 Many students from both high schools are saying that they need to take a stand towards bullying and that although many are turning to social media now to help cope with their loss, things like Twitter and Facebook are the reasons young, bright girls like these two commit suicide. Even though it hasn't been specified if bullying took part in either death, it is something to think about.
This article was opened with a quote from Jay Asher. The full quote is as follows, "You don't know what goes on in anyone's life but your own. And when you mess with one part of a person's life, you're not messing with just that part. Unfortunately, you can't be that precise and selective. When you mess with one part of a person's life, you're messing with their entire life. Everything. . . affects everything".
This quote coincides with the "golden" rule, "treat others how you want to be treated". Today, there are many ways of bullying. There are plenty of ways to make a person feel badly about themselves; perhaps more ways than there have been in the past with all of this new technology.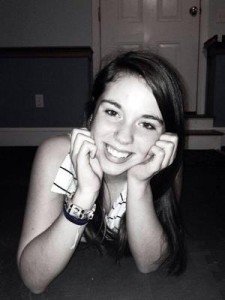 Leave a Comment