Pentucket Boys XC Competes in State Championships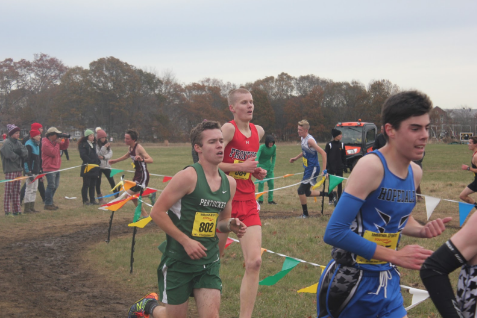 All season, the Pentucket boys cross country team won every race they competed in. However, on Saturday, Nov 18, the Sachems finished in a close second to Parker Charter at the MIAA All States Championship meet. The Sachems came in second place as a team overall to Parker Charter High School. The score was 90-95.
Leading the way for the Sachems was sophomore Peter Lopata. He came in 12th place with a time of 16:36.64. Sophomore Sam Stys finished 16th, senior and captain Nick Murphy in 23rd, sophomore David Gangemi in 39th, junior Will Coppola in 59th, freshman Colin Costa in 60th, and junior Anthony Accardi in 75th.
Overall, Pentucket coach Darrell Cox was very impressed by the work of his top seven squad. Although achieving second place was a good wrap to the season, there was a bittersweet feeling of an undefeated season ending, especially since the Sachems were so close to being state champions.
As for this cross country season, the Pentucket boys are taking it indoors for the winter, but they are looking to expand and outperform next fall.