#MeToo: TIME's 2017 Person of the Year
Over 10 years ago, activist Tarana Burke started the #MeToo movement to raise support and awareness for those who have been sexually assaulted. However, the movement has gained attention in light of women coming forward with accusations against Hollywood film director Harvey Weinstein, giving many women (and men) the courage to share their experiences using #MeToo.
Among candidates such as Donald Trump, Colin Kaepernick, and Kim Jong Un, TIME magazine has declared the "#MeToo Silence Breakers" Person of the Year 2017. Some of the women credited with inspiring the movement, in addition to Tarana Burke, are actors Ashley Judd, Rose McGowan, and Alyssa Milano.
The magazine cover (pictured below) features some of leaders of the movement, also known as the "Silence Breakers." They are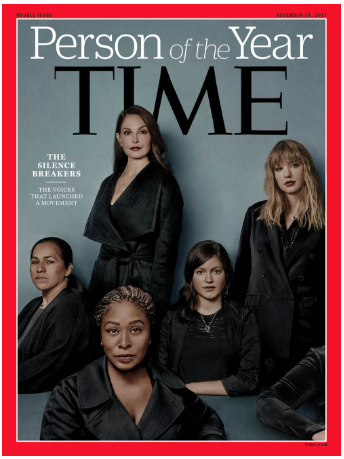 pictured wearing all black, and the women's arm pictured in the bottom right corner of the cover is meant to represent the women choosing to remain anonymous but want people to know: "#MeToo."
In the article, TIME shares stories and photographs of the individuals who inspired and contributed to the #MeToo movement. For example, in actor Selma Blair's interview with TIME, she "recalls him [a sexual abuser] telling her that if she said anything, he would stab her eyes out with a Bic pen and throw her in the Hudson River." Another woman featured in the article chose to stay "anonymous because I live in a very small community. And they just think usually that we're lying and complainers," exhibiting the fear of stigma that remains in some of these women even after coming forward with their stories.
Overall, the article could be considered a victory for those who have faced sexual assault as well as a victory for feminists. Congratulations, "Silence Breakers"!
Photo Credit: TIME Magazine, Photographers
Billy & Hells