Sony Announces Re-release of Original PlayStation
According to GameSpot, on Dec. 3, 1994 the original PlayStation video game console was released. In less than three months, it will be released again, in a much smaller form. The release date is the 24th anniversary of original console, Dec. 3.
On Wednesday, Sept. 19, it was announced that Sony will be re-releasing the classic console under the name PlayStation Classic. Being nearly half the size of the original device, the PlayStation Classic will include twenty pre-loaded game titles. The five titles confirmed so far are listed below.
When PlayStation Classic was first announced, the post on the PlayStation Blog stated that "all of the pre-loaded games will be playable in their original format." It has been assumed that this means the games will not be remastered in any way, like most re-releases are.
Most reactions to this announcement have been very positive. On the day the console was announced, Kinda Funny's Andrea Rene tweeted, "WHAAAAAAAT?!! Guess it was only a matter of time before the other platforms jumped on the mini craze!"
She's referring to the fact that Sony's move is considered to be in response to Nintendo's re-release of the original Nintendo Entertainment System and Super Nintendo Entertainment System. According to Business Insider, these consoles are known as NES Classic and Super NES Classic, like PlayStation. The NES Classic and Super NES Classic have been difficult for Nintendo to keep in stock, which can give gamers an idea of what to expect from the PlayStation Classic.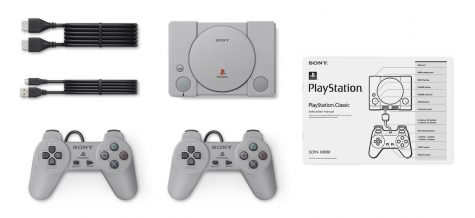 Pictured above, the PlayStation Classic will connect to its display via an HDMI cable. Unlike traditional modern gaming systems, this console will not plug into an outlet. It will need to be plugged into a USB port for power during usage. The console will also include two controllers.
(Cover Photo Source: PlayStation Blog)