Dress Fiasco: Scammed
As many know there are critical risks when ordinary goods online, though as the winter season approaches many students are going to take this risk.
During this time of year, homecoming is quite popular in high schools. Students are frantically trying to get the most complimenting makeup, finest jewelry, and the perfect dress. Although, what many people don't realize are the dangers behind ordering a dress over the Internet.
Dresses are extremely expensive in retail and sizing can become quickly disastrous, so shopping on the Internet may appear to be the ideal solution. One can find designer dresses at huge discounts at the click of a button. Although few know the reality of the situation.
Many bogus websites come off with flashy images that catch viewers' attention. Crazy discounts and designer brands are plastered over one's screen. This may seem like an unpassable deal, but let's look at from a realistic perspective.
If this distributor is selling such high-end dresses at 50, 60, or 70 percent off discounts, how will they make a profit? Most likely these are counterfeit dresses or remarked damaged merchandise.
But what about the five-star reviews and custom tailoring? Reviews can be faked and generated by companies. Anything with only perfect reviews comes of quite suspicious. And this supposed "custom tailoring" one of the biggest red flags of a counterfeit market.
According to FoxTv , one can break down these telltale signs into the following categories:
-Large Promos, Hundreds of Dollars off
-Exclusive Items From Designer Brands
-Limited Photos (not showing selected colors)
-Custom Tailoring
-Nonuniform Photos
These are a few things one should look for when coming across a suspicious retail site. However, there are two keys ways one can test if a website has stolen content: reverse image searching and firewall testing.
One can access reverse search tools on Tineye, a free search engine. From entering the network, drag the selected photo of the item you are interested to their database. Results can show up in a matter of minutes.
In my testing, I found that on the website I was viewing, there were hundreds of search results for selected dresses. These results lead to several other international retailers all claiming to sell the same dress.
From there, I used firewall testing. Firewalls are security filters one can download on computers and mobile devices to block out websites that may have illegal activity or contain viruses. Such security stems can be easily downloaded from Windows and other large distributors for little to no expense.
Right away, the page was automatically blocked on my computer and I was informed by Windows that it was "an untrusted source."
Running out of time, knowing that homecoming was only a few weeks away, I ignored the warnings and ordered the dress I was viewing. Roughly a month after ordering the gown, it was delivered to my house in an obscurely small plastic bag.
Looking at the return address marked on the bag, I noticed the dress wasn't from China where I assumed it would be manufactured. The dress supposedly from Saudi Arabia.
Knowing great detail of the mistreatment of citizens and gun violence going on there, I was horrified.
The minute I laid my eyes on the dress that was shipped to my house, I knew it was not the dress I saw in the photos. Down below is a picture of the gown that was featured on the retail website I was viewing compared to the dress I received.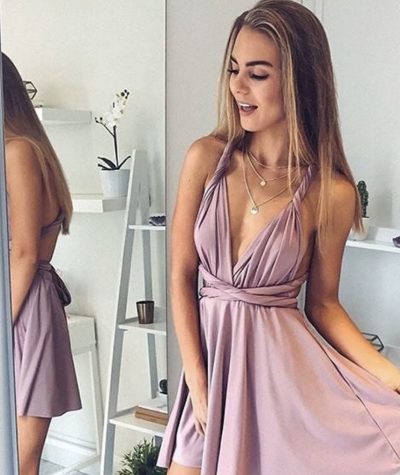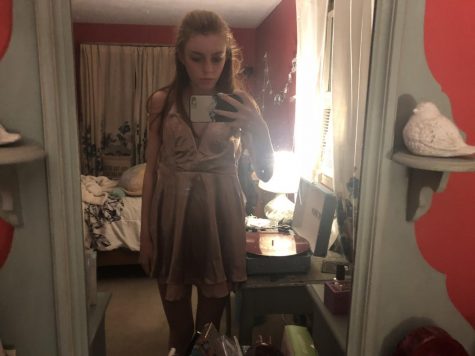 Not only was the dress notably a different color and material, but the sizing was completely off. The dress covered less than half my thigh and the top was too big. Knowing I have a tall slim figure, I asked a friend of mine to try the dress on too. Even though she is quite shorter than me and slightly heavier, the dress did not properly fit her either.
Putting the problem of finding a new dress aside, I was concerned about my mother's credit card protection. Previous to this instance, my mother had gotten her credit card stolen on several other occasions making her more respectable to such action. According to Gulf News, one in ten people ordering items online are victims of credit card theft.
Looking at this at full focus, what are one's chances of ending up in a similar situation as I was? Most likely if a deal online is unearthly believable it's most likely some form of a scam.
So when you're ordering a dress for Homecoming this year double check where you are getting your dress from, or better yet, try one on in person!