2018 Nobel Peace Prize Winners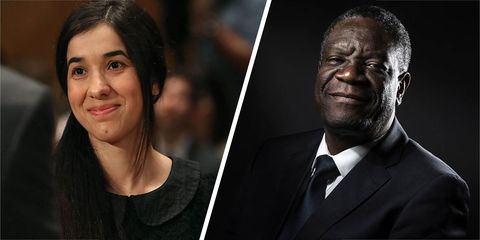 Established in 1895, the Nobel Peace Prize, created by Alfred B. Nobel, is continuing on for the 123rd year. This award has come a long way and has since been better stabilized. The Nobel Peace Prize was first jointly awarded in 1901 to Frédéric Passy and Henry Dunant.
Frédéric Passy won the Nobel Peace Prize as a recognition for his decades of work to gain international peace. He developed the Inter-Parliamentary Union (IPU), whose end goal was to use arbitration to end the (then) conflicts of politics or trade.
Henry Dunant won the Nobel Peace Prize for his foundation of the International Red Cross in 1863. The foundation of the IRS can be seen as the greatest achievement of the nineteenth century. Dunant brought the idea to the table of unbiased care to the sick or wounded in times of war, along with the neutrality of medical workers.
This 116 year old award continues to be given out this year to two recipients: Nadia Murad and Denis Mukwege.
Nadia Murad is a 25-year-old Iraqi humans rights activist. She was awarded the Nobel Peace Prize for her efforts "to end the use of sexual violence as a weapon of war and armed conflict." The Nobel Peace Prize announcement explained that both she and Mukwege were awarded the prize for the attention they brought to war crimes, such as rape, abuse, and other forms of sexual harassment.
Denis Mukwege is a 63-year-old Congolese gynecologist, who works in a hospital in Bukavu. There, he treats women who have been raped by armed rebels. Mukwege was awarded the Nobel Peace Prize for his actions of defending those who are victims of war-time sexual harassment. He and his staff have been helping to treat victims for the past ten years, and have a basic principle of "justice is everyone's business."
Nadia Murad and Denis Mukwege have qualified for the Nobel Peace Prize due to their acts of bravery in defending women who have been victims of war crimes.
Not only has their bravery set them apart from others, but both Murad and Mukwege have put their lives at stake in an effort to make an impactful change, something we all should be trying to do throughout our lives.