Increase In Minimum Wage: My Perspective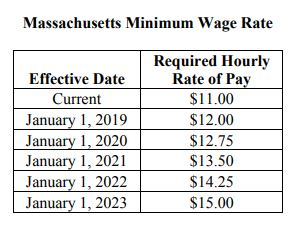 Making your own money is great, especially for a teenager like myself. Having the ability to go out and splurge money on fun activities is a great freedom to possess. It is also just as satisfying to save up your money in a bank account for any long-term purposes.
As of 1968, the minimum wage in Massachusetts was as low as $1.68, but in 2018, it is now $11. In 2000, it was at just $6, but over the last 18 years it has increased by $5 and it is only going to continue rising for the foreseeable future.
On June 20, 2018, Governor Charlie Baker signed the "grand bargain" bill into law, where the minimum wage will be increased to $15 by 2023. Effective on Jan. 1, 2019, the minimum wage for part-time employees will change from $11 to $12. Then, from Jan. 1 2020 to Jan. 1 2023, the wages will increase by either 75 cents or 25 cents each year.
There will no longer be the beloved "time and a half" (where any employee who worked in retail would get $16.50) on Sunday for employees as well due to this new bill being enacted.
Tipped workers will also receive a nice raise, with their wages going from $3.75 an hour to eventually $6.75 an hour by 2023. As of January 1, 2019, the minimum wage for tipped workers will go from $3.75 to $4.35 per hour. Then, from January 1, 2020 to January 1, 2023, the minimum wage will increase by 60 cents each year.
As a part time worker at the Market Basket in Newburyport, I have mixed reactions to this announcement. It is nice to receive a good raise that is of dollars and not of cents. It's going to be great to be able to make up to $15 an hour. I'll definitely have a bit more "pocket change" to my name come five years from now.
It is interesting too how a kid who may still be in middle school would earn $15 an hour five years from now. That is a shocking hourly wage for someone who hasn't even hit high school yet and was born when I was eight or nine!
On the flipside, this is only going to have a negative impact on the company. The prices on groceries are only going to increase, as a minor inflation will occur due to the company having to gain a profit. Popular items like paper towels and pasta (which are reasonable food choices that go for such low prices) are going to cost a little bit more due to this new minimum wage law being enacted.
Any retail company is going to have a tough time putting together a crew for Sundays soon. Many workers are willing to forgo having the day off to watch the Patriots or spend their time with family so that they can make the $16.50 an hour on Sunday. Now, no one has any incentive to wake up on a Sunday and look forward to going to work.
It is more likely than not that my hours will be cut due to them not being able to afford paying me $15 an hour for four days a week. I currently work three to four days a week. That number may be cut if I remain at Market Basket in 2023, because companies tend to avoid having their part-time workers work many hours due to not wanting to give their employees benefits. I don't mind the free time, but when I am a little bit older and most likely paying for more expenses, I am probably going to want to get as many hours as possible.
This is also contradictory to one of the main focal points of Donald Trump's campaign. This businessman turned politician has emphasized how he is looking to create more jobs in the United States. As of July 2018, Trump has created 3.2 million jobs, with unemployment being at the lowest it has been since the start of the 21st century.
This "grand bargain" bill is not going to help the unemployment rate when it comes into full effect. Multiple corporations are not going to have the financial resources possible to pay so many employees at least $15 an hour, so part time employees could be laid off or denied work because of this new law.
Overall, I really don't know if this bill is going to succeed or fail. I am excited to get a nice pay raise for the next few years to come, but I worry that it will get less exciting due to me coming to the realization that I may not be able to make a good amount of money to pay for things like my upcoming student loans.
The only thing that I can personally recommend is that if you think that you will need a part time job soon, try to get in now so that you're safe and secure before it gets tougher and tougher to find one.