The Who: Kaley Enright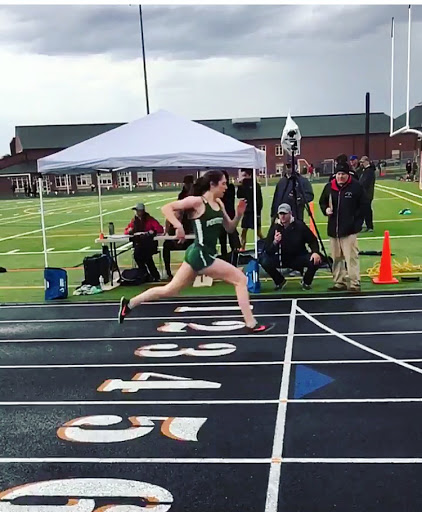 "I'm thankful for my teammates who pushed me to be where I am today. From [teammate] Syeira coming into high school making me nervous to run against her to [teammates] Saige and Meghan pressuring me on the side to do my best. Everyone's support helped me push myself so much and I couldn't ask for better friends/teammates," says senior athlete Kaley Enright.
On Friday Dec. 7, Enright signed her National Letter of Intent to run track and field at Stonehill College for the next four years. Enright is a standout athlete and contributes tremendously to her high school track team in both the indoor and outdoor seasons as a sprinter. In addition to indoor and outdoor track, Enright has completed four seasons of high school soccer, including two on the varsity team.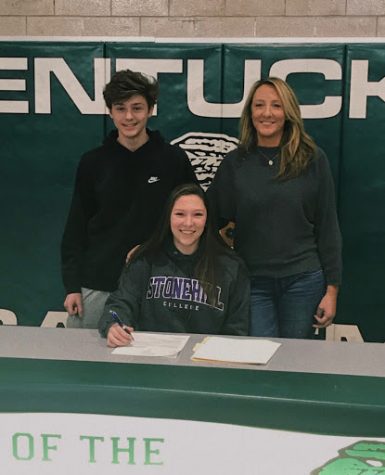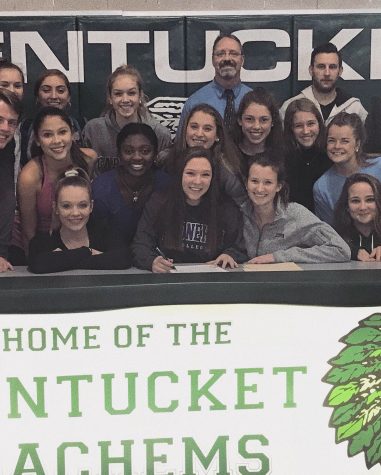 Enright is a captain this year for both indoor and outdoor track. In indoor track Enright runs the 300M and 55M sprints, as well as the 4x400M and 4x200M relays. During outdoor track she runs the 100M and 200M sprints, and the 4x100M and 4x200M relays, in addition to participating in the long jump.
In addition to Stonehill, Enright was considering University of Rhode Island, University of Massachusetts Lowell, and Assumption College, later narrowing her decision down to UMass Lowell and Stonehill. Ultimately she made the decision to commit to Stonehill, feeling confident that she would be successful there.
For Enright, the recruitment process for Stonehill began with an online questionnaire. Afterward, the track and field coach at Stonehill expressed interest in having Enright on the team not only because of her athletic abilities but because of her academic achievements as well. Enright took a tour of the school, then attended an overnight visit, meeting the track coach and many members of the team. Enright really enjoyed the fun atmosphere and environment of the school, causing her to make Stonehill one of her top schools.
Now that she's finished with the college application process, Enright is relieved to be "stress free." However, she will miss "meeting new people through sports, improving in my events, and just having fun," as well as her teammates and coaches who have helped her grow through high school. When reminiscing on her experience at Pentucket Enright states "I won't forget the memories I have made."