Continued Problems with USA Gymnastics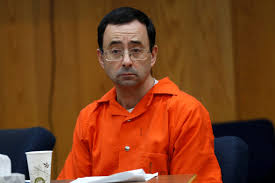 USA Gymnastics has been in shambles since the 2016 lawsuit against Larry Nassar was filed. Larry Nassar is a doctor who worked with high level gymnasts for many years through USAG. Kyle Stephens came forward in 2016 and said that Nassar sexually assaulted her in 1998, which resulted in over 250 others coming forward as well.
Starting in 1986 Larry Nassar began working for USA Gymnastics as the team athletic trainer, and then in 1996 he was appointed the USAG National Medical Coordinator by the Board of Directors. Nassar went to school for his degrees at Michigan State University (MSU) and began a fellowship there in 1997. Kyle Stephens who came forward with allegations of sexual assault against Nassar, who was not being treated by him as an athlete, stated that the abuse happened when she was only six years old, in 1998. Larry Nassar and the woman's parents became friends when they attended medical school together at MSU and stayed friends over the years, which is how he came into contact with Stephens as a young girl. A few years later the Stephens stated that she told her parents about the assault, but they did not believe her and also made her apologize to Nassar for accusing him of it.
In 2017 there was another lawsuit against Nassar by Rachael Denhollander, saying that in 2000 she reported Nassar to MSU for sexually assaulting her during treatment for a back injury when she was 15 years old. Numerous other athletes came forward with allegations of sexual assault, including Aly Raisman, Jordyn Wieber, Simone Biles, and Maggie Nichols. A vast majority of those who came forward state that the assault happened constantly, and at the time they believed it to be part of medical treatment.
When Nassar finally went to court in 2018 for sentencing, over 150 victims or their families presented Judge Rosemarie Aquilina with their victim statements, which took over four days to complete. Larry Nassar stated in a letter to the Judge that he could not mentally handle hearing all of the impactful statements and seeing the victims, but Judge Aquilina dismissed it and proceeded.
Many gymnasts, including Aly Raisman, stated that they reported the abuse to USAG, and were told that USAG would handle the situation and that they should not report it to the authorities. Caitlin Mooney, a gymnast for 14 years, states that she believes Larry Nassar was able to get away with abusing athletes for so long because of his "deceiving nature" and USAG not sitting in on some of his appointments. Since then, USA Gymnastics has had many changes in faculty including Steve Penny's resignation of his position as CEO and President of USA Gymnastics.    
USAG is no longer using the Karolyi ranch, owned by Bella and Marta Karolyi, as the national training camp center, after many gymnasts said that they were abused at the ranch. It has not been proven whether or not the Karolyis' knew of the abuse happening, even though they said they did not, but Caitlin Mooney believes they did stating, "Marta and Bella are very intelligent people, and they most likely picked up on the uneasy feelings of their students." Mooney goes on to say that they most likely did not report it because they did not want to lose money or their reputation. On Jan. 25, 2018 on the Today Show, Aly Raisman stated that MSU is not the only organization that turned a blind eye to the abuse. Although Twistars Gymnastics denies knowing about the abuse, Aly Raisman believes Twistars Gymnastics, MSU, USAG, United States Olympic Committee, and many others have been affected by the Larry Nassar trial. Gymnasts at Twistars Gymnastics, owned by John and Kathryn Geddert, stated that abuse also happened in the back room of the gym.
USAG is trying to do better in the eyes of victims and to benefit future gymnasts, but Aly Raisman says that they are just giving empty promises, and training for people in the organization should be done to stop it from happening again, according to Raisman's Twitter page.
After former USAG President and CEO Steve Penny resigned, his successor Kerry Perry, was only in the role for ten months before also resigning amidst the scandal. According to USA Today, on Dec. 5, 2018 USAG filed for chapter eleven bankruptcy, leaving many wondering what the future of gymnastics holds.