Senior Feature: Caroline Clark
In Caroline's free time, she horseback rides and has since she was six, but she decided she wasn't a huge fan of the competitions so did it mostly for fun and self improvement. She added that she had "been on the MetroRock rock climbing team since (her) sophomore year and so far (she's) taken home two first places at USAC White Mountain School Bouldering Competition and the Dark Horse Season 11 (MetroRock's local competition)."
She also placed 6th in USAC Bouldering Regionals and advanced to divisionals but injured her wrist and placed 19th overall.
Caroline was a part of the 10 minute plays her sophomore year. She also was in Pentucket's summer show Cinderella her summer before freshman year. She was also part of the equestrian club, run by Mrs. Lee, for her freshman and sophomore year.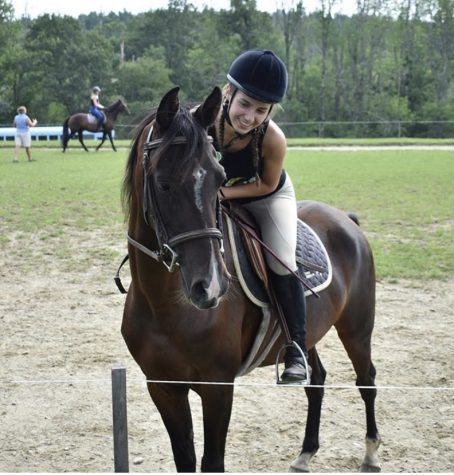 Caroline's photography has been hung up in the superintendent's office, and her drawings have been shown at the art exhibit. She took piano lessons on and off until she was 14, where she continues to play for fun in her free time. Along with piano, she has taken up ukulele, which she is still learning. She also enjoys bike riding.
After graduation, Caroline will be attending Davidson College in Davidson, North Carolina. She plans on majoring in psychology with a minor in Spanish. 
Caroline says that she will miss Mrs. Martin, her 8th grade English teacher, because she is amazing and one of the strongest people she knows.
When asked about what Caroline has done for work, she responded, "[During] my freshman year, my only job was working at a horse barn where I would care for and feed the horses a few hours each week. I also did this on occasion for other barns in my area. This continued until my junior year when I started working at MetroRock Newburyport. I started by working birthday parties and working the front desk, but as of my senior year I was asked to create and run my own Pre-K climbing program for kids between the ages of 4-6 to get a supervised introduction to climbing. I created lesson plans for the kids and no more than five kids could sign up."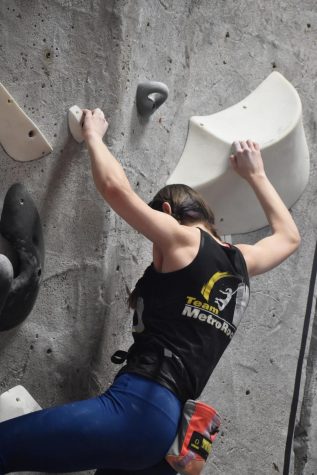 She has also coached Pentucket Advanced After School Program but soon was asked to co-run a new MicroCrushers program with her friend and coworker Carmela. Caroline says, "These kids are ages 9-14, and twice a week for two hours we give them a structured climbing plan like the JV team would have but with only one required competition. Other than that, I occasionally help coach JV."
Caroline has volunteered at the snack shack in West Newbury from 8th grade to sophomore year. She completed all of her community service hours in her junior year by volunteering with her friend Alexa Berkley at the NEER North Horse Rescue. 
Caroline's favorite memory of Pentucket is when "Rachel Belliveau and I found two wet dogs wandering through the front lawn while we were trying to shoot a video for video production. We were able to grab the dogs (who were very sweet) and get Mr. Kawolski to call the number on their collars. Turns out they lived at a horse barn about a mile down the road and just wandered over here. They were picked up by the owners and all was fine but it was quite the experience."