The Rise of Fashion and the Recirculation of Trends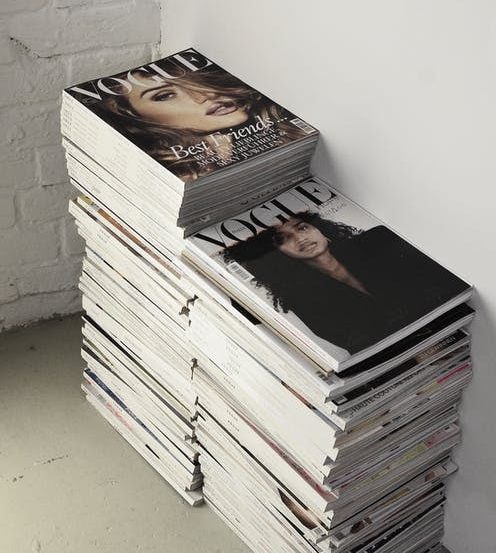 Fashion and style are always changing and evolving throughout the years. From the length of dresses to the rise of jeans, each year brings something new and every decade brings notable and memorable trends. Oftentimes a lot of these trends are reoccurring and come back many years later. If one of your favorite trends goes out of style, don't lose hope because it will probably come back around. In recent years, many trends from over 20 years ago have resurfaced and have become very popular once again.
1900s
New trends of today may fade out and then become popular once again many years from now. A popular trend in the early 1900s were corsets. These were popularly worn even in years prior to the 1900s, although they were still trending going into the 20th century. This is quite interesting because over 100 years later, they are back in style. This item is very important to fashion due to how it is always repopularized.
The design of this item has been changed over the years, but the base and purpose still stands. They were often paired with frilly blouses and skirts, and while that whole look may not have made a comeback, many are now pairing their corsets over dresses and even with jeans. This trend seems to come back when a thin waist or hourglass figure is seen as the beauty standard to many. Although this is an unhealthy and terrible standard, it is something that has always existed in beauty and fashion. Beauty standards like this change constantly, and many people do not fit it. Although that is perfectly okay and we are all made to look different, the corset provides that cinched waist effect to those who may not have it naturally.
Clothing can provide confidence, and when people look good, there is a higher chance that they may feel better as well. The corset can provide people with their dream figure, hence providing confidence. Although some people may just like the look of it, there is most likely a reason why it always makes a fashion comeback.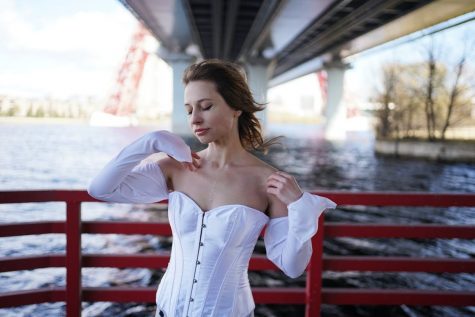 1910s
The following decade brought a huge change for women's clothing. In the 1910s, a big step came about and women started to wear dresses above the ankle. With today's clothing, it may be hard to imagine a time without this style of dress, but the clothing many years ago was all very modest and women's clothing was not designed for skin to be shown. Women were to cover up and hide themselves, but now showing skin is almost a new "normal," giving empowerment to women. These dresses were boxier and looser, and often still made of lace which was quite popular. The waist still cinched oftentimes but the dresses were a tad bit shorter which made all the difference back then.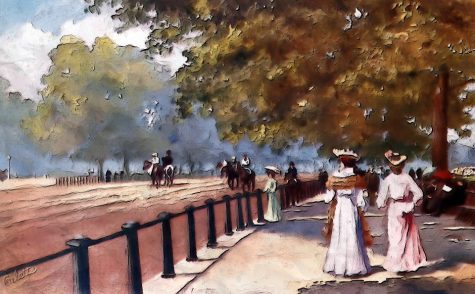 1920s
Over the next few years, the hem had been climbing higher and higher up the body. The 1920s brought the shortest length yet. After a rough couple years people finally started to get back on their feet which caused a time for celebration, and these short dresses absolutely served their purpose. Flappers are probably one of the most memorable, and what many think of when they are thinking of this period. These people often wore shorter dresses, bobbed hair, and were seen as more scandalous as they went against societal standards. As for men in this time, they were a bit more dressed up as well as they wore suits and tuxedos, nice shoes, and accessorized with hats, ties, gloves, watches, etc. Who knows, maybe people will start dressing up after our rough few years are over. After having nowhere to go and no reason to dress up for so long, it's much easier to understand why everyone in the 1920s got dressed up just to leave their house.
1930s
As evening wear continued to progress over the years, gowns became very popular for women. Although people were still wearing day dresses, and more casual dresses that they would wear at home, gowns did have their time to shine in the 1930s. Elegant dresses were the style of the decade and were sometimes even backless, although the modest neckline made up for the bare skin being shown. These dresses are a classic and many people still love dresses inspired by this time period. Many red carpet dresses you may see were inspired by this time, as the women from the '30s serve as inspiration for current stars.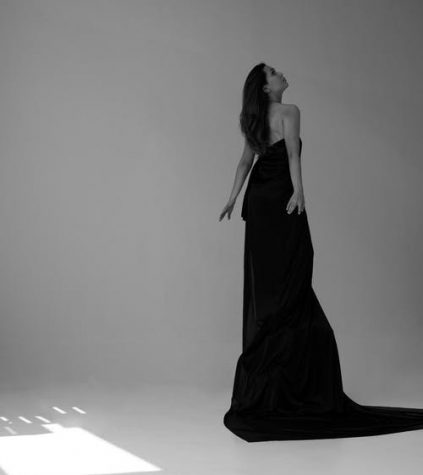 1940s
Moving along through the decades, the '40s called for some big changes. With the start of World War II, many women were taking over jobs that had been seen as "just for men." Although dresses were brought up a bit higher to knee length, they had more structure to them and were given a more masculine look. Although dresses were still very modest at the top, there was a bigger variety of necklines to choose from. Because women wanted to escape the thoughts of the war, many of them wore colorful dresses and patterns. This time period also opened new doors to styles women would never have thought to be seen wearing. Women's suits had appeared at this time and it allowed women to mix and match for constant new outfits.
After the war was over and many women returned to their old jobs, this style still continued to be popular because it was so comfortable along with being practical. Although many women wore skirts with their new suits, pants also became a women's item at this time. Up until the '40s, they were known as menswear, but this decade changed that. They were very high waisted which is a current popular style that many love in the current decade. In more recent years, high waisted items have been so popular due to the fact that they provide people with confidence and can hide some people's insecurities. It is very similar to the corset in that way. Who knows if that is the reason they originated back in the '40s, but it would absolutely make sense.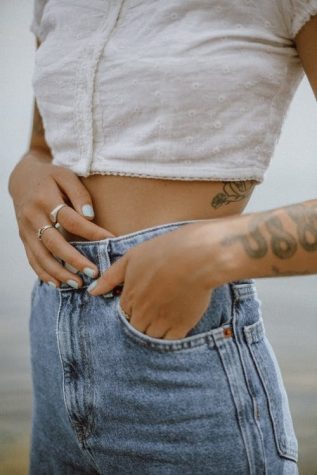 1950s
A more retro style was brought in with the 1950s, along with very exciting trends. Poodle skirts are very well known from this time period. This skirt was longer and often colorful. It also featured an image of a poodle on it. For those that didn't want to wear these skirts, the greaser style was another good option. This iconic style was edgy and often accessorized with an attitude. Women often wore jeans or leather pants, black, belts, leather jackets, and heels among other accessories. Men oftentimes wore leather jackets, jeans, untucked white shirts, and boots or sneakers. The hair was also usually seen greased back. This style hasn't made a lasting impact on more recent years, but who's to say it never will?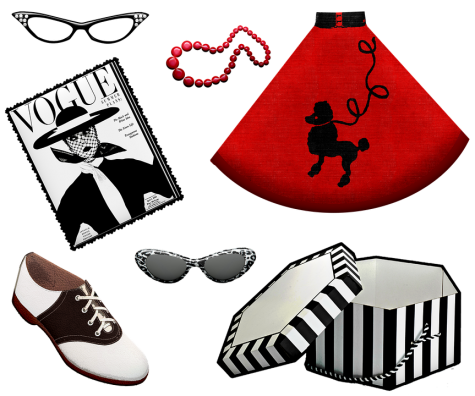 1960s
In the following years, the long skirts were swapped out for years full of mini skirts and expression. Mini skirts became popular, which are an item still loved today. A popular shoe from this decade are go-go boots, which were an iconic style in the '60s. These shoes were originally white but other styles, heights, and colors did come out due to them being so popular. Shift dresses were also quite popular and seen as a casual look when home or running errands. These dresses are a bit shorter and perfect for a usual day, however, because of the short length they weren't seen as appropriate for the workplace. These dresses and the reasons for wearing them have evolved through the years, and although you may not recognize the term "shift dress," you may be more familiar with a brand called Lilly Pulitzer. Many dresses from this brand come in this shift dress style that is usually a boxier shape that hangs down, and doesn't hug your body or cinch the waist in any way.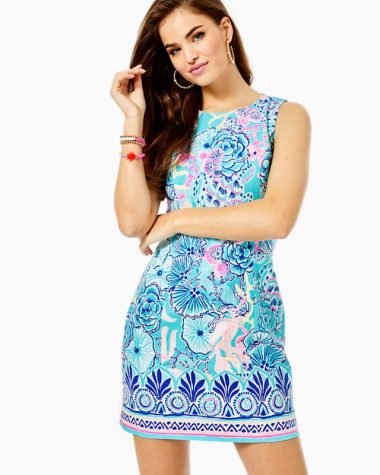 1970s
Moving along to a less professional look, the '70s were a time for fun colors and new styles. Even pants were becoming more popular and acceptable for women to wear. One popular pant style at the time was bell bottoms. This is an example of a trend that is currently being repopularized. Many people are wearing jeans from previous decades as of right now, and there are many different styles being worn; one of these being bell bottoms. Although this wasn't the first time they had been worn, high waisted jeans began being worn more commonly at this time and many people have never gone back. A high waisted look provides confidence to many people.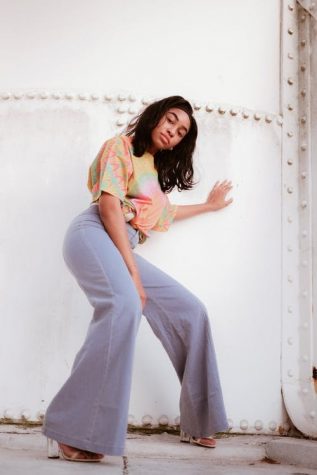 1980s
The '70s were bright, but the '80s were an even brighter time. Big hair and neon colors were all the rage. High waisted jeans were still very popular and created many looks during this time. Denim in general was a hit and jean jackets grew to popularity. For those who weren't feeling the jean look, they chose an alternative look, which was made up of neon tights, usually paired under a skirt or a pair of shorts, and a lace shirt or cropped sweatshirt. This look was often accessorized by leg warmers, big hair or side ponytails, and other accessories and jewelry. Cut-off shirts and sweatshirts were quite popular during this time and this is a trend that has lasted and has been worn even in the most recent years. Cropped tees, tanks, and other shirts are styles loved by many.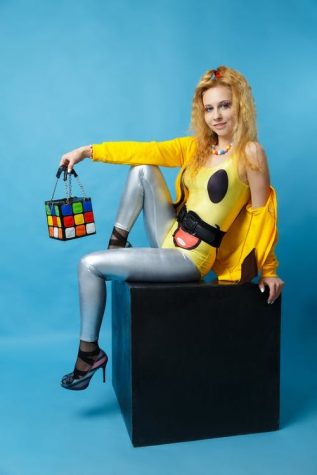 1990s
Corsets had their return in the 1990s and have even been brought back in the last two years. This is a trend that comes back from time to time, and because of this, who knows if it will ever die out. Slip dresses and skirts are another trend making a comeback that was trendy in the '90s. Heels had come a long way over the years and in this decade they were strappier and loved more than ever. Leather jackets also got to make their comeback alongside animal print and tie dye.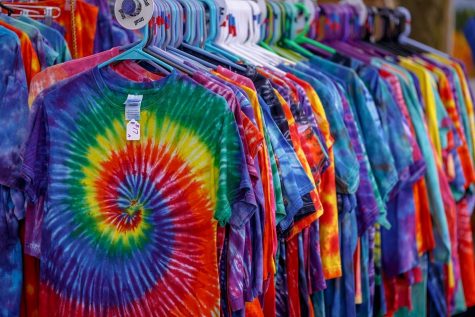 2000s
The 2000s brought forth many trends, some good and some very questionable. The highrise pants everyone loved so many became low rise once again, but lower than ever. The miniskirts from previous years returned but were much shorter, and much lower of a rise. They were tiny overall. Cropped lowrise jeans and pants in general were very popular. A questionable trend from this decade was wearing dresses over jeans. As questionable as it may be now, it was very popular at the time, especially for teen actresses who wanted to wear mini dresses while still looking appropriate. Another thing that defined the decade were Juicy Couture tracksuits. Velvet was very trendy at the time and all velvet tracksuits became very popular. This look seems to slowly be creeping back, though it may not be as fast as some others. If you want to get on this trend in the early stages, a great place to find these pieces is thrift stores since many people donated them after they were no longer trendy. Trends tend to recirculate, remember that. I'm not saying to never get rid of clothes, but if something you love is no longer trendy, you may want to keep it around so you can be one of the firsts to hop on the trend when it comes back into fashion.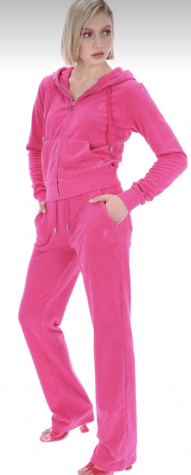 2010s
Around 2010, fashion became a bit more casual than dresses slipped over jeans. Athleisure was the newest trend and people absolutely loved it. It was great to be able to be comfortable while still looking fashionable and on trend. Leggings and yoga pants were a must. A streetwear style also made its debut although it would be perfected a lot more over following years. Brands and logos were a bit more popularized and could sometimes be worn in a more street-style type look. Although this has taken over today, many more pieces included well known brands and companies on them to make it a recognizable piece of clothing. Skinny jeans were an item people loved at the time. It provided much more comfort than previous pieces and hugged the body in all the right places.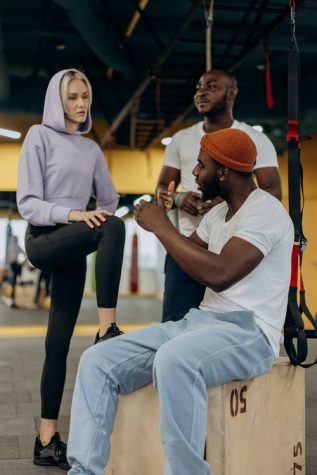 As for the upcoming years and the current decade, many trends are being pulled from past years. Fashion has been more accepted than ever, and unlike many years ago, people can wear whatever they choose to. There are many different types of style to choose from. Women can wear suits and men can wear dresses if they so choose. Although there is still some controversy and different views around the topic, there is more progress than ever. Recently, fashion has been made up of past trends. The past couple of years have contained trends like tiny sunglasses, tiny purses, animal print, tie-dye, streetwear style, and a variety of different types of jeans that used to be very trendy. All of these trends among many others make up fashion in the current day. It will be interesting to see what new trends become about, and what other trends will be pulled from past years.