Are We Near the End of Mask?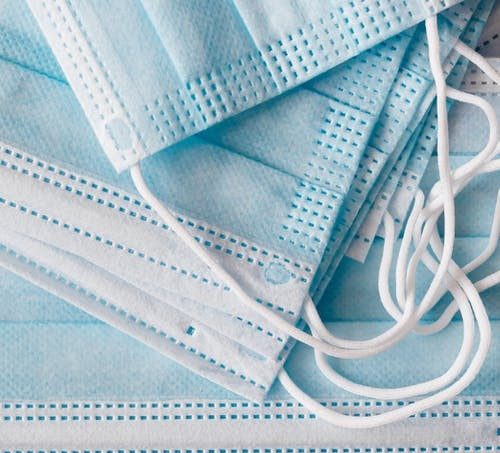 After over a year of living through Covid, it feels like going out in a mask has become second nature. However, as more people become fully vaccinated and we hopefully get closer to what feels like then end, more and more states are becoming less strict about mask regulations. 
President Biden announced to the nation on April 27 that fully vaccinated people may omit a mask when outside and not in large crowds. As of May 12, half of the country has no mask restrictions. The states where masks are mandatory mostly include New England and the West Coast. Masks have been a primary political debate throughout the pandemic, and it is clearer than ever that maps of mask mandates in the United States closely resemble political maps.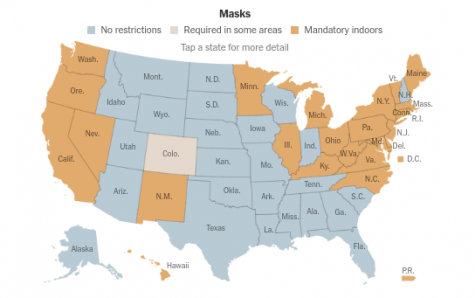 Over April vacations, I traveled to California and Iowa over the course of six days. Although the population is larger, the mask situation in California was fairly similar to how it is in Massachusetts. In Orange and Anaheim, nearly everyone was masked inside. A few people were seen without a mask in outside shopping and dining areas, but the amount of people with a face covering outweighed the amount without. 
Hollywood Boulevard was a much different setting than Orange County. The city area had an overwhelming amount of people who were not masked. Nearly every other person along the sidewalk did not have a mask covering their mouth and nose or even on their face at all. The indoor shops in the area were also not very strict on enforcing the policy. 
In Los Angeles County, most indoor venues are open with modifications and specific guidelines. Many locations are still only allowing 25-50 percent maximum capacity, but some allow an increase if guests have proof of full vaccination or negative test results.
Since Iowa has lifted mask mandates, there were significantly less masks in sight than what I am used to seeing in public settings the past year. As a state with no mask restrictions, the locals in Des Moines and Iowa City were easy to spot since they were either sporting a University of Iowa tee-shirt or had no mask on. 
In the two days I was there, I noticed that 60-80 percent of people did not wear a mask outside. Downtown areas and outlet malls were slightly less populated than they would typically be pre-Covid, but it was evident that there is not a strict policy on maximum capacity there. Table proximity at restaurants varied among establishments. Some still had dividers set up and tables blocked off, but others seemed to be less concerned about keeping customers socially distanced while eating. Nearly all workers were masked, but there were some cases where some employees had their mask below their nose during their shifts.
Over April vacation, many others took the opportunity to finally travel after months of quarantine. This was common among seniors who wanted to get in last minute college visits before making their final decision.
Megan Reading, a senior at Pentucket, spent the week traveling throughout the Northeast on college tours, visiting Washington, D.C., College Park, PA, and Syracuse, NY. Compared to Massachusetts, the mask situation is similar in all three locations. Reading said that people were almost always wearing their masks indoors, with the exception of restaurants. 
However, Reading explained that people were less concerned about the mandate when outdoors. "Around half the people still wore masks outside whereas the other half of people did not wear masks outside," Reading claims. "Unless it was a group of people meeting in a more professional and organized setting, like on a team or a club, then it was pretty common for groups of people, students especially, to not have masks on when they were outside with others."
Another Pentucket senior, Paige DeBoyes, travelled to an entirely different part of the country over April break: Fort Worth, Texas. While Texas has removed their state-wide mask mandate, Texas Christian University still required all guests to wear masks while touring. 
Similar to Reading's experience, DeBoyes said that it was split about 50/50 for people wearing masks outdoors. She said, "It was definitely very weird to not see most people wearing a mask outside. I [also] went to Hampton Beach… and most people actually weren't wearing a mask because of New Hampshire, and it was super strange, too."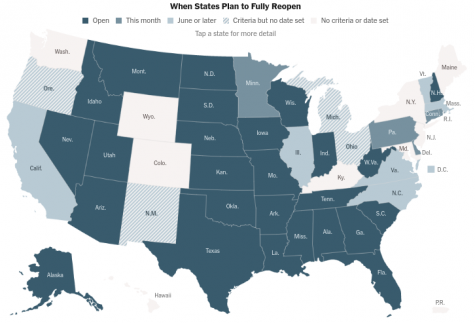 It is still impossible to predict when the world will be back to "normal," but we may be closer than we know. The world has dreamt about the day we can say goodbye to masks, and while 25 states are already there and open, others are only a few months away. With any luck, the fall may put a positive spin on a negative year.