"Fire Falls": A Pentucket Sculpture
Being able to draw something with more value than a stick figure is something of an accomplishment, whereas being an actual artist who creates real art is definitely an achievement. Pentucket High School art teacher Sean Bixby is one of these better-than-a-stick-figure-artists. As an artist, Bixby has created sculptures of dogs, illustrated books, created paintings, and has now been accepted to an exhibit at Norman Rockwell Museum, located in Stockbridge, Massachusetts. 
"Fire Falls": The Sculpture
Bixby's sculpture will be on display at Norman Rockwell Museum's garden as part of Land of Enchantment: A Fantastical Outdoor Sculpture Exhibition planned for July 10 through October 31, 2021. 
Bixby actually "entered this show on a whim." He discovered the advertisement when he was doing research on shows for his friend and simply "stumbled across" the Norman Rockwell Museum. From there, he decided to take a chance and enter by putting together a brief sketch.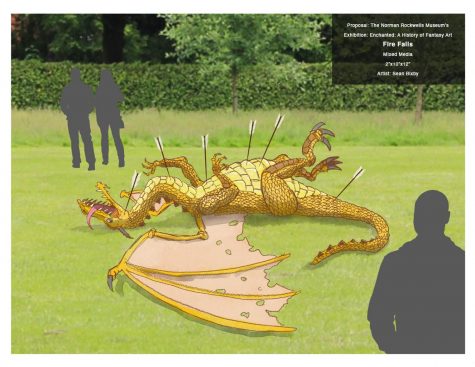 Regarding the theme of the outdoor exhibit, Bixby states it is "fantastical and whimsical with focus on iconic monsters and figures from fantasy." He decided to put a brief sketch together as it was in his "wheelhouse," for he loves monsters and mythical creatures.   
For the exhibit, Bixby is creating a dragon, which he states, "Transcends time … and cultures [because there are] dragons from cultures all over the world."
Bixby said the sculpture will be made out of wood and be a "12 foot dragon lying on its back with some arrows peppered in it so it looks like it was shot out of the sky. It is titled 'Fire Falls.'"
Bixby states that "it was a huge honor" to be accepted into Norman Rockwell's Museum since it is a "prestigious institution." He is not in the main exhibit in the museum, but some work from his heroes, who specialize in illustrations, will be placed in part of the main show. Just knowing that his work will be "100 yards away" is extremely exciting for him. 
Bixby, who notes that he has never sculpted a dragon out of wood before, has a lot of work to do. Since he has a lot going on right now, with teaching both at the high school and college level, grad school, and having fatherly duties, he plans on getting to work once the school year ends. Bixby does try to put in a few hours on the weekends when he gets the chance. He has created a rough schedule and estimates that if he does 15-eight hour days, he could complete it all before the sculpture's due date, July 5th.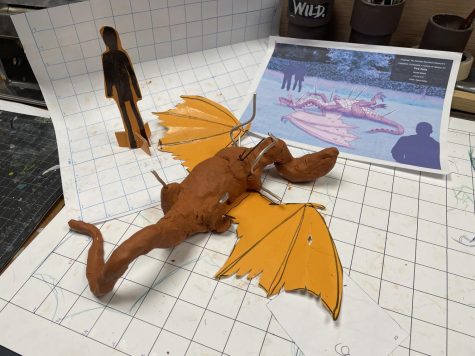 As he has a busy schedule every day, time management is very important. He is able to balance it all by making said schedule. Bixby says that his wife also helps and is very supportive and "knows this is a wonderful opportunity and wants to see me succeed."
Over the weekends Bixby tries to dedicate a couple hours in the afternoons to get a few things done. He does a lot of squeezing in when he has a free hour or so. He also has to work in time restrictions because he can only work during the day for the most part when using his wood power tools, since he has to be considerate of his neighbors.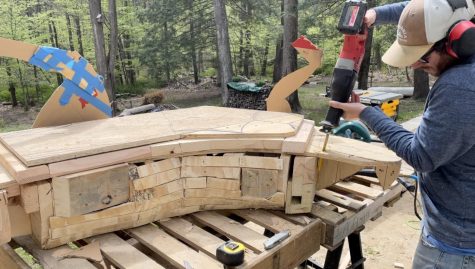 For the goals for this sculpture, Bixby hopes to give it a "sense of life" and appear as if it was truly shot out of the sky and was alive at one point. Bixby does not want the dragon to look like a solid object or stiff, so he is including lots of curves to try to make its pose look "organic." 
A Passion for Art
Bixby has been interested in art for as long as he can remember. Like many others in first grade, Bixby wrote a paragraph about what he wanted to be when he grew up and he wrote that he wanted to be a cartoonist. He still has that paper today. 
Bixby does not have a favorite art style and he likes that he can jump into different forms of art, though he says it can be "both a blessing and a curse," since he can find himself "spreading [himself] too thin from trying to do too much." He does really enjoy painting, though.
There are a lot of rewarding moments as an artist for Bixby, such as meeting new people, but also the reactions of those viewing his artwork. 
Bixby gets a lot of commissions to do dog head sculptures and sometimes he would get a video from the buyers who, after receiving the finished product, record the reveal to the receiver. These videos are emotional because often the dogs in these sculptures are deceased. It makes Bixby happy knowing that he did "their pet justice" and made it so realistic that the receivers can see their pet as if it was living. 
Bixby does not have a favorite piece he has made, however, a piece he created in 8th grade always sticks out to him. He created a cartoon beaver on a big poster board many times and drew all superhero costumes he could think of on them. It was the first time he made it a goal to complete an art project on his own and dedicate time and effort to it.
It opened Bixby's eyes because he realized that if he could put his mind to it, he can bring his art to life. 
Looking Ahead
Bixby hopes to finish his masters in art in the spring. He hopes once everything settles down, he can make some more art, as he has been interested in going into graphic arts. Bixby also hopes for more commissions and getting some network opportunities from the exhibition. He is preparing for next year and more exhibits.
Bixby said he seems to have found success in sculpture since few get into sculpting and he thinks it can be a niche for himself if he continues with it.
You can find his website here. 
Advice for Artists
Bixby advises that artists, whether they are serious or just looking for a hobby, just keep on drawing and making art as much as they can. He also suggests taking advantage of any art classes and fully grasping onto the skills the teachers teach and make time to apply these skills to their own personal art. Bixby says that artists should make as much as they can and show others because putting oneself and one's artwork out there is "the only way to get feedback, exposure, and potentially get opportunities."