Julian Edelman's Legendary Career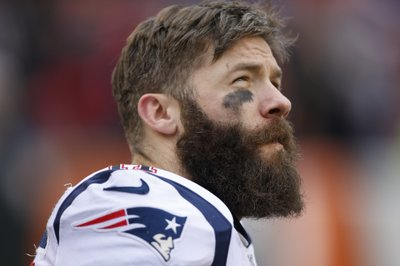 After playing in the NFL for 11 legendary seasons, Julian Edelman's career is, unfortunately, coming to end after he did not pass the physical tests required by the patriots, due to his knee injury from early in the 2020 season.  
As one of the most idolized players in New England, this was extremely hard news for many people who have watched him play for their team since they were little kids.  Coming together with the family on Sunday nights to watch the Patriots dominate the league while Brady and Edelman worked their magic was something everyone looked forward to.  Although it may hurt now to see Edlemen gone, Patriot fans certainly will not forget what he did for their team, and they will always remember him as one of the greatest to ever play the game.
Where it all started
As a little kid, Edelman always knew that he wanted to play the game of football. Edelman was born in the San Francisco Bay Area, in the suburb of Redwood City, California. He is the son of Angela (née Gole) and Frank Edelman, a mechanic who owns an A-1 Auto Tech. Edleman has two siblings, Jason and Nicole. Once he reached high school, Edleman played varsity football and baseball as a freshman and started his sophomore year as quarterback of the football team. As a senior, he led the Wildcats to a 13–0 record in their 2004 season. Throughout his high school career, Edelman had 2,237 yards and 29 touchdowns passing, in addition to 964 yards and 13 touchdowns rushing.  Coming off of a hot season, Edleman went on to play quarterback at the College of San Mateo, where he threw for 1,312 yards and 14 touchdowns, rushed for a school-record 1,253 yards and 17 touchdowns. After his first season at San Mateo, Edleman transferred to Kent State where he played quarterback for the remainder of his college career. Once his senior season was over, Edleman made the decision to declare for the draft, even though he knew he would be deep into the lower rounds. Little did he know that his attempt to play in the NFL would change his life forever.
The road of a Patriot
After the draft was over, Edleman ended up being selected by the New England Patriots as the 27th pick in the 7th round.  Once he signed, Edleman knew he would probably be playing in a different position other than QB, because the Patriots had selected a quarterback before him. He started training to be a wide receiver and started to see his work pay off as his playing time progressed. He soon went from being on special teams receiving punts to working his way to getting playing time as a receiver.  Edleman was looking like a solid weapon for the Patriots until he broke his arm during his 2009 season and did not come back until week 10 of that season while in for Wes Welker when he tore some ligaments in his left knee.  All was looking good for Edleman, however, for the next couple of seasons, he did not get the playing time he desired and was mainly used on special teams. It was not until his 2014 season that he really began to stand out as one of the Patriot's go-to guys. He started 15 games and had 92 receptions for 972 receiving yards, as well as four touchdowns. In a Week 9 matchup against the Denver Broncos, Edelman returned a punt 84 yards for his fourth career return touchdown, passing Troy Brown for the most punt return touchdowns in Patriots history.  After being one of the most dominant teams in the league for the remainder of the season, the Patriots would go on to eventually win the Super Bowl. After the Patriot's fourth Super Bowl win and Edelman's first, the Patriots were determined to make a statement for themselves and establish their franchise as a winning team. As the years progressed, the Patriots seemed to always have a playoff-contending team, and always put up a fight for the Superbowl. After the 2015 Superbowl victory, the Patriots would go on and win two more during Edelman's career, and certainly would not have been able to do so without him. During the 2017 Super Bowl game against the Falcons, Edleman made the incredible catch that seemed impossible, which later resulted in a big Patriots touchdown. The Patriots would go on to win that game after being down by 25 points.  Edelman was the most targeted player during the game and was leading the team in receptions. His last two seasons with the Patriots were no surprise when it came to his performance, and in 2019, the last season that the Patriots went to the Super Bowl, Edelman had an exceptional performance which resulted in a Patriots' win to top off Tom Brady's career as a Patriot. That would be Edleman's last full season playing in the NFL, due to his knee injury in the following season that forced him to retire.  His name will always be remembered by Patriot fans as one of the greatest receivers in the franchise.
Edelman's retirement has certainly sparked a lot of conversations throughout New England, and Pentucket Regional high school is certainly no exception. The day Julien announced his retirement, the school seemed to be buzzing with shock by the news and most people could not believe that their childhood superstar would be no longer playing football. After speaking with Nolan Gorski, a sophomore at Pentucket, he could not believe that the news was true and that Edelman was actually retiring; "I always kinda thought that he was gonna play forever and never retire" "I feel like I was just watching him win a super bowl with Brady, making insane catches and being everyone's favorite player".  Many people say that they saw this coming after the injury on his knee.  After speaking with Max Macdonald, he said that it was no surprise after he was ruled out for the season; " At this point in his career, injuries take a huge impact on his body, and although he certainly had more to bring, I feel as though playing just would not be worth risking his health."  No matter how you look at his retirement, it is what it is, however one thing is for certain; Julien Edelman had a legendary career and should be remembered as one of the greatest to play the game.