NFL 2021 First-Round Draft Grades For Picks 22-32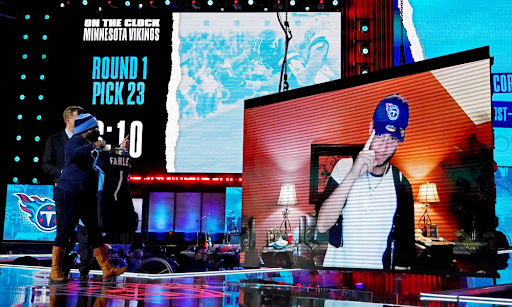 These are my grades for draft picks 22-32 from the 2020 NFL Draft.
22. Tennessee Titans-Caleb Farley: A-
The Titans found an excellent value in Farley at 22 because he was supposed to go in the top 10 before his back surgery. While he has an 80 percent chance of recovering fine from his back surgery, there is still a 20 percent chance that he will not recover to a level where he would be able to play at a dominant level or play at all. Because the Titans needed a cornerback and he is a very good value, but due to the 20 percent chance that Farley will not be fine, the Titans get an A-.
23. Minnesota Vikings-Christain Darrisaw: A+
Darrisaw is a spectacular pick in the draft for a potential playoff team in the 2021 NFL Season. Because Justin Fields went 11, it made sense for the Viking to trade down to get more draft capital and still land a player to fill a position of need. Darrisaw will do that just nicely, as he steps in to help make the Vikings' offensive line better for Kirk Cousins and Dalvin Cook. 
This is definitely an A+ pick, but the Vikings should have drafted Jeremiah Owusu-Koramoah to help their terrible defense. However, Darrisaw is still a great pick and who may help the Vikings get back to the playoffs.
24. Pittsburgh Steelers-Najee Haris: C-
This is not a great pick because the Steelers would have been better off going after Tevin Jenkins, who went in the second round. The Steelers lost many players on their offensive line, and they were ranked second to last among all teams in terms of the run game in 2020. Haris is not a show-stopping running back like Todd Gurley or Ezekial Elliot, who went high in their respective drafts, and you cannot have a run game without a solid offensive line. 
Drafting a good but not electric running back who will be put into an offense with a terrible offensive line is why the Steelers receive a C-. 
 25. Jacksonville Jaguars-Travis Etienne: B
The Jaguars really should not have drafted Etienne because they already have James Robinson, who was fantastic in his rookie year and the best part of the team in 2020. The Jaguars should have drafted Jeremiah Owusu-Koramoah or Greg Newsome II to fill many holes in their defense and try to build for the playoffs in the future. While my grade has changed from a C- to a B after the Jaguars rookie camp and seeing Etienne take reps at wide receiver to complete a decent receiver core, he is still not the best pick.
If the Jaguars wanted to give Lawrence weapons, they should have drafted Rashod Bateman Elijah Moore instead of taking a running back.
If Etienne can successfully be a receiver or a running back who catches rather than running, it will still be a semi-good pick because the Jaguars could have taken a real wide receiver.
I feel the only reason Etienne was drafted was because he played at Clemson with Lawrence.
Etienne is a B-grade pick because while he is trying to be a wide receiver or a primary receiver running back, plenty of other good wide receivers were available and plenty of defensive players were still available for their terrible defense.
26. Cleveland Browns-Greg Newsome II- A+
Getting a position of need without trading up is great for the Browns' future as a real contender in the AFC. The Browns upgraded their secondary in free agency, and Newsome II is the final piece to complete a great secondary and an outstanding defense for the 2021 Season. This is an A+ pick for the Browns, who are shaping up to be one of the teams to beat in the AFC like the Chiefs and the Bills.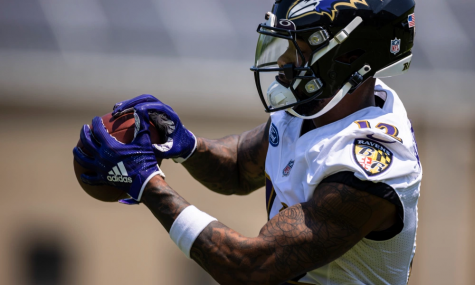 27. Baltimore Ravens-Rashod Bateman: A+
The Ravens finally gave Lamar Jackson a good weapon for their primarily rushing offense. Bateman plays physically and will add another dimension to the Ravens' one-sided offense. This is an A+ pick for a team that has lacked a true go-to wide receiver for many years.
28. New Orleans Saints-Payton Turner: C
The Turner pick shocked me on draft night because I thought the Saints were going to draft Asante Samuel Jr. At 6'5" 270 pounds, Turner will be a rock on the Saints' defense, but I am not sold on this pick because there were still good cornerbacks available.
I give a C grade to the Saints because Turner might be a great player in the next couple of years, but they needed a cornerback as their star one, Marshond Lattimore, was arrested back in March and may not be able to play in the 2021 NFL Season.
29. Green Bay Packers-Eric Stokes: F
The Packers drafted a cornerback a couple of hours after Rodgers said he wanted out of Green Bay because of the front office's decisions, and this pick highlights why Rodgers wants out. Even though cornerbacks were a position of need for the Packers, they should have drafted one in the second round because there were still solid cornerbacks on the board, and Stokes may have still been available. The Packers should have attempted to entice Rodgers to come back by drafting Ejilah Moore… but they did not. 
This is an F grade pick for the Packers because this draft pick may be one of the many reasons why Rodgers left for a new team.
30. Buffalo Bills-Greg Rousseau: A-
This is a good pick for a team that is mostly a very solid, complete, and a real contender in the AFC. Their only issue, a lack of edge rushers, was highlighted in the AFC Championship Game against the Chiefs when they could not stop Patrick Mahomes. Rousseau will help make the Bills' defensive line become more pressuring for opposing offenses in the future, as he had 15.5 sacks in his 2019 season.
The only problem is that the Bills are in "win now" mode, and Rousseau will most likely have to redshirt the 2021 NFL Season because he opted out in 2020 and only played one full season, which was all the way back in 2019.
If Rousseau can still be like his 2019 self and play at a time when the Bills are in "win now" mode, either this year because of a coach's decision or injuries to starting edge rushers or in the 2022 NFL Season if the Bills are still in "win now" mode, this is an A- grade pick.
31. Baltimore Ravens-Odafe Oweh: A-
Oweh is a good pick for a team that lost a star edge rusher in Matt Judon in free agency and needs to play well so they can win a hard division. Oweh is a great player but still has a lot to learn, making his potential sky-high. He will make an impact in week one, continue to make an impact if he learns and plays better, and help the Raven recoup their loss in pressure on their defensive line.
This is an A- grade pick because Oweh is going to make an impact but has a lot to learn.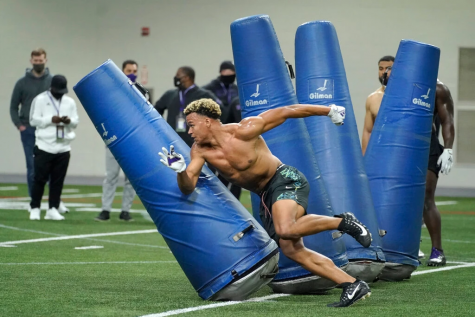 32. Tampa Bay Buccaneers-Joe Tryon: A
For a team that has all of their starters back, this is a great depth player. The Bucs' defensive line is great, but Ndamukong Suh is not getting younger, so Tryon will be a great player to fill in for Suh once he retires or leaves the Bucs. Tryon is also a big guy and can be a good rusher to break through the offensive line, but he still has a lot to learn. 
This is an A pick for thinking about adding depth, thinking about the future, and adding a player whose skills will get better because he still has a lot to learn and will sit on the bench for a year or two and learn behind others.