Top 10 New England Destinations to Visit this Summer
Planning your next summer getaway? Maybe you're looking for a place with quaint shopping and beautiful restaurants, or a place for hiking, swimming, and embracing beautiful New England nature. Whatever it is you're looking for, I've got you covered. Here are the top ten New England destinations that you should add to your bucket list this summer… (in no particular order).
Portland, ME
If you are searching for that quaint New England town that feels filled with beautiful shopping and restaurants, Portland is the place for you! Portland is an easy train ride from Boston or you can fly into their airport. I highly recommend visiting during the summer months to take full advantage of fun seasonal activities, such as lobster boats and seeing the town on foot or bike. 
Portland is well known for its beautiful harbor, quaint boutiques, and amazing food. Portland was actually named the 2018 Restaurant city of the year by Bon Appetit Magazine. There are tons of local breweries, global cuisine, and a New England staple- lobster! New England's "biggest small town" is definitely worth a visit this summer!
Newport, RI
Newport is well known to New Englanders as the summertime escape for the rich and famous. It is the perfect place for plenty of sightseeing, the main attraction being the eleven Newport mansions that you can tour. However, there is still plenty of fun to have in Newport during the summer!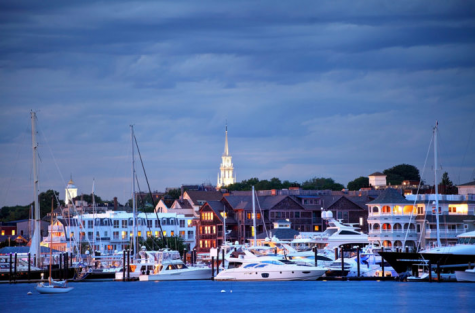 When the weather is warm, relaxing on the two gorgeous beaches that Newport has to offer, First and Second beach, is a great way to spend the day. The Cliff Walk is also popular, a 3.5-mile trail walk that leads to breathtaking ocean views. You can also take a ride on a sightseeing cruise or tour many of its historic homes, such as the Isaac Bell house. 
The area of downtown Newport is filled with antique stores, art galleries, beautiful boutiques and shops, gift shops, cafes, bars, and restaurants for every budget- from diners to ocean-front dining. Nevertheless, if any of these activities sound like you, Newport is the best place to be!
Portsmouth, NH
Despite New Hampshire's small strip of coastline, there is still a small city located on it: Portsmouth. It is the third oldest city in the nation, making it a historic destination. There are a lot of attractions centered around it. 
To explore some of its histories, I recommend visiting  Strawberry Bank, an outdoor museum with more than 30 restored buildings built between the 17th and 19th centuries. This is a living history museum, complete with actors and actresses performing as historic residents and recreating what life was like back then.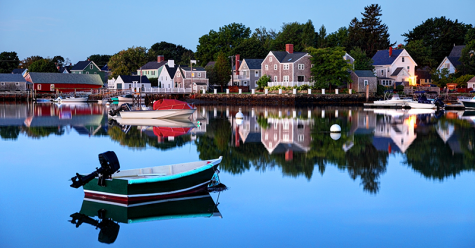 Portsmouth also offers a beautiful waterfront and a great shopping and dining scene, with Market Square being the center of all things. 
Nantucket, MA
The 14-mile Nantucket island, thirty miles off the coast of Cape Cod, is the perfect weekend getaway, romantic excursion, family vacation, or fun day trip. There is a high-speed ferry, around a one-hour ride, and a car and passenger ferry, around 2 and half hours, that comes out of Hyannis. 
In the summer months, the streets are bustling with people. I highly recommend renting bikes to explore the island since walking on foot can get a bit tiring. Relaxing on one of the many beautiful beaches that Nantucket has to offer, such as Madaket, Jetties, and Surfside- which are great ways to spend the day.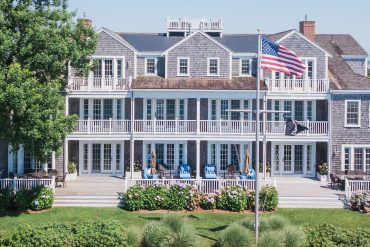 Indulging in amazing New England cuisine and visiting some of the best bars and breweries, such as Cisco Brewery, is always a plus. Also, buying some new clothes never hurts! From lobster rolls and clams to beautiful beaches, quaint shopping, and endearing seaside cottages, Nantucket has everything you are looking for!
Acadia National Park, ME
Acadia National Park being the only national park in New England makes it an especially appealing destination for those who love the outdoors. Located on Mount Desert Island and the Schoodic Peninsula, it holds a special place in New England's heart.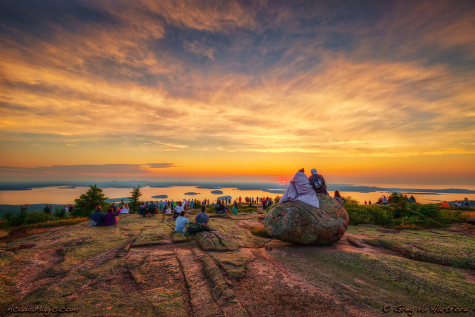 Popular for its beautiful fall foliage, rocky seashores, and breathtaking sunrises, the park has many activities appropriate for all ages. I recommend starting the day off extra early and driving up to the summit of Cadillac Mountain to take in an amazing sunrise over the ocean. This is also one of the first places in the US where the sun rises, making it an extremely popular activity.
Use a free shuttle bus to get to the trailheads. Acadia offers hikes for all skill levels, where experienced hikers would enjoy the Beehive trail while the less intense hikers may enjoy a walk on the Carriage Routes or a walk around Jordan Pond.  
Whether you are looking for something eccentric, fun, or just a nice beach vacation, all of these destinations are great options!