Delivery Man: Review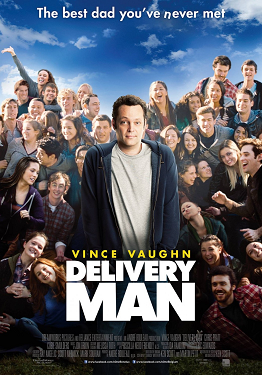 My best friend and I have been waiting to go see this movie for quite some time. We finally decided to go and it was hilarious and heart-warming. This new movie Delivery Man, directed by Ken Scott was definitely worth seeing.
This movie starts with David (played by Vince Vaughn) when he finds out that he is the father of 533 children. David was a sperm donor in the past and didn't realize how many times it was used. Out of the 533 children, 142 of them have made a group and have joined together to try to meet him.
David's friend Brett (played by Chris Pratt) gives him a folder with all of the 142 children's profiles and tells him not to open it. Out of curiosity, David opened it and each day stalked one of them and helped them in some way or another. Without telling them that he is there dad, he just acted like a random person doing something nice for them.
Things get really out of hand throughout the movie and it is very comical. This movie is funny and cheerful. I recommend this movie to almost anyone; it isn't inappropriate or too girly. I think anyone could enjoy this movie, I know I did.
Leave a Comment