Saving the Environment, One Sweater at a Time
Throwing out clothes that fall out of favor in your wardrobe may seem like business as usual, but where do all those clothes really go? The average American is responsible for throwing away approximately 70 pounds of clothing per year, filling up landfills at a rapid rate. Luckily, a creative and viable solution exists; thrifting. 
As thrifting has risen in popularity, it's important for people to understand how beneficial the practice is. Thrifting has long been a useful tool to save money when shopping, but only recently has it become known as a climate-saving practice and an easy way to help save the environment.  On average, 85% of clothes in the U.S end up in landfills. By thrifting, you ensure that your old clothes have a new purpose and many people would even be surprised to know that making your wardrobe more sustainable reduces your water footprint. As stated in Water Footprint Calculator, "Water is involved in almost every stage of clothing production." Imagine all the water used in making just one shirt. Now multiply that by the average 80 billion pieces of clothing made per year. Disappointingly, the terrifying statistics don't end there. Clothing production causes a tremendous amount of chemical pollution that can go unnoticed. Inorganic dyes and oil by-products oftentimes enter our land and water through runoff.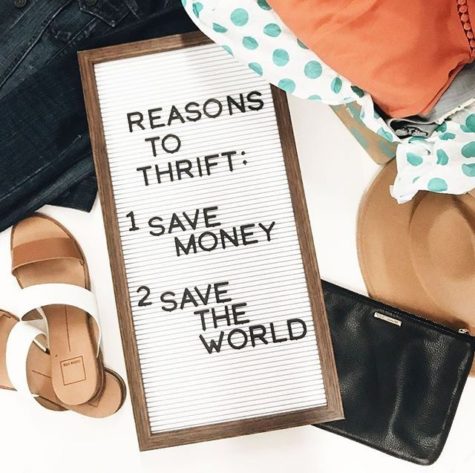 Thrifting creates a second option that is cruelty-free to our planet. Not only is second-hand shopping valuable to our beautiful planet, but it also can be very beneficial to your wardrobe.  Oftentimes thrifting can provide people with unique clothing that isn't as commonly found in mainstream stores. Whether you're looking for unique pieces or staples that bring your closet together, thrift stores have the things you need. And, even better, they are kind to your wallet. What could be better than interesting clothes for cheap prices? A second-hand dress could be under five dollars depending on where you visit. Some stores even have different varieties or cater to certain things. A consignment shop I visited in Beverly was very aware of what is popular in modern fashion. Most thrift stores categorize either by color or by seasonal clothing. Local thrift shops that you can visit, within a 25-mile radius, are Savers in Plaistow and Portsmouth, Goodwill in Seabrook, Gentry's in Newburyport, Share the Love Consignment in Andover, and more! Whether you're looking for a new blazer or a comfy sweater, thrifting guarantees a new piece that you'll love with a lot less guilt. 
Gentry's, Newburyport
50 Water Street, Newburyport, MA