Doc's Return to Boston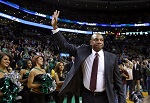 On Wednesday night, the L.A. Clippers came to Boston with new head coach, Doc Rivers. Doc, who had coached for Boston for nine years from 2004–2013, before making the move to L.A., returned back to the T.D. Garden with a warm welcome.
It was an emotional night for the Celtics, as well as Doc, as the coach who lead the team to seven playoff appearances and a world championship returned to Boston.
His choice to leave Boston was a difficult one for the Celtics organization and Doc, but the organization appeared to be headed to another rebuilding process that Rivers did not want to be a part of. The aging superstars, Paul Pierce and Kevin Garnett, were far past their prime and on expiring contracts for the Celtics. The all-star point guard, Rajon Rondo, had recently torn his ACL and out for most of the next season, and the first round exit in the 2013 playoffs were all signs pointing to a rebuild.
Rivers, who came to Boston during a rebuilding period helped bring the Celtics from the worst to the first in the Eastern Conference with the help of long time Celtic Paul Pierce. During the 2006-2007 season the Celtics finished with a record of 24-58 last in the Eastern conference. The following year in the 2007-2008 season the Celtics had a record of 66-16 and finished first in the Eastern Conference, and then went on the win the NBA championship.
The quick turnaround came from the help of a blockbuster trade that brought Kevin Garnett and Ray Allen to Boston the join Paul Pierce in forming the modern era big three.
Over Doc's nine years he spent here in Boston memories, good and bad, were made. It was an emotional night for the city of Boston to see their beloved coach return to their beloved city.
Leave a Comment