Favorite Christmas Songs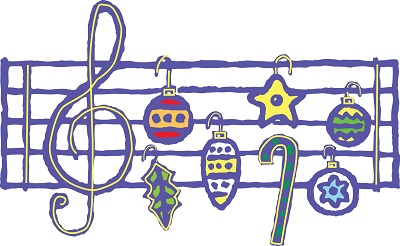 "'Tis the season to listen to Christmas songs!  Fa la la la –" what? What do you mean?  These aren't the lyrics?  Fine!  Then I'll create my own song with NEW lyrics!
No, really.  December is the time of year when most people are listening to Christmas carols.  Even if you don't celebrate Christmas, if you turn on the radio, the Christmas songs are perpetually playing.
I interviewed Mrs. Michelle Merritt on what her favorite Christmas song is and she told me the Charlie Brown Christmas songs.  She said "I love [absolutely everything on the Charlie Brown Christmas CD].  I have three copies at home."
Out of the forty people I talked to, Mrs. Merritt was the only one who said her favorite was the Charlie Brown Christmas songs.  "I don't know [why I love them]" she added.  "They're just so happy and I remember watching the Charlie Brown Christmas show.  I just love Charlie Brown!"
Lastly, she said "I love Christmas.  I wish it was Christmas twice a year!"
I also spoke with Rob Gleason who said that his favorite Christmas song was the Jimi Hendrix version of Carol of the Bells.  Gleason told me "I like the guitar aspect of it.  It's a little different."  When I asked him if he had any fond memories of it, he told me it reminded him of 'Home Alone.'  (And then I vowed never to speak to him again.)
Christmas music is generally happy music and can immediately brighten your mood.  Elizabeth Inger greatly enjoys all sorts of Christmas music.  I asked what her favorite Christmas song was and she struggled to pick only one.  "There's so many –" Inger said.  "This season I particularly like Believe by Josh Groban."
Elizabeth lit up as she told me "It's magical!  It sums up Christmas and reminds me of the 'Polar Express.'  I love that movie."
It seems that Christmas movies and songs go hand in hand.  As mentioned above, I interviewed forty people on their favorite Christmas songs and the most popular one was All I want for Christmas is You by Mariah Carey.  In second place was Rudolph the Red-Nosed Reindeer.
Christmas songs seem to bring people closer together.  People go Christmas caroling, sing at church and listen to songs on the radio throughout the holiday season.  Christmas songs truly have a magical quality of making the holiday spirit!  Merry Christmas!
Leave a Comment