Last Minute Halloween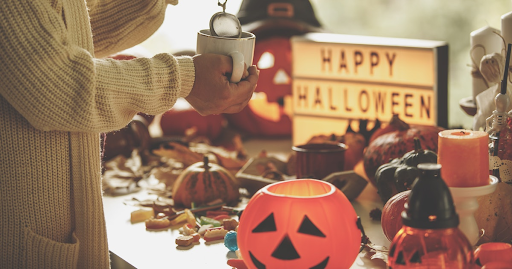 Missing the Halloween Spirit? Want to dress up but have nothing to wear? Just like a good spooky vibe? Ah, the golden years of 2000s Halloween: plastic treat pumpkins, the Costume Parade, skeleton crafts, and "The Monster Mash". We all remember racing across lawns with flashlights and smiles, hunting down pounds of sweets and eating ourselves into candy comas.
 It is no secret that Pentucket loves Halloween; teachers have a yearly theme, some classes get trivia and fall fun, and not wearing some kind of costume is sacrilege. New England is the hotspot of Hallow's Eve: with historical history, witch lore, and autumn foliage, its quintessential for Spoopy Season. 
But in recent years, there has been a noticeable dip in the season's vibes. Friends don't feel like having parties, the air doesn't have that classic autumn crisp, and costumes feel like a hassle. 
As a theater kid and party planner extraordinaire, I adore Halloween; an excuse to go all out on treats, foods, and outfits with no questions asked, sounds good to me! But even I have felt out of sorts about the Great Pumpkin's big day. Last year, I stayed in, didn't make a costume, and watched one movie without any candy. Lame! Maybe it was Junior Year Drain, maybe Covid wiped it out of me, but I swear this will be my best year yet, and I'm here to help you too. Here are some last-minute ideas for procrastinating ghouls, goblins, and more.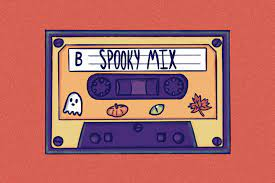 Make a Playlist:
For the busy or tired folk, making a Halloween playlist is the simplest way to get some minimal fall feels. While it is hard to generalize music taste, there are three "genres" of Autumn/Halloween music: Chill, Classic, and Hardcore.
Chill –  Ah, my kinda vibes. A good book, a cuppa tea, and a warm fire are all the peace I need this time of year. You're looking for some quiet ambiance for study sessions, some background music for a night in, or just classical and instrumental songs. I suggest finding a few Dark Academia albums, some instrumental tracks from 90s Halloween flicks, and a Celtic folk song or two (They'll hit once in a while).
Classic – You're looking to revitalize your childhood faves, get some nostalgia, or you're hosting a kid's bash. Find Disney Villain songs, get the soundtrack hits from old shows or movies, add the insistent Halloween hits. Nothing says 1st-grade Costume Parade more than "Addams Family" and Goofy's rendition of "Monster Mash".
Hardcore – Oh, I like you. You're the cool ones. There's no messing around, this is your jam list. You wanna dance, you want the chills, you're looking for the real scares and haunts of this horror season. Forget House of Villains and Casper, you have a marathon of thrillers to binge before the last leaf falls. You want "Red Right Hand", "Season Of The Witch ", and "Halloween Theme", something to get your heart pumping' as you dawn Texas Massacre merch and visit ScreamFest. Your fear of nothing and love a good adrenaline rush, I fear and respect everything about you.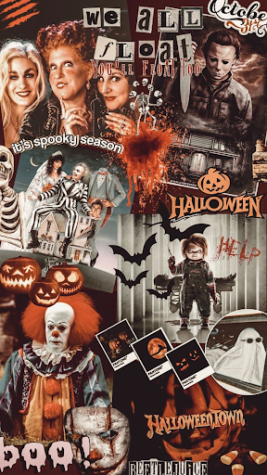 Have a Movie Night:
This requires a bit of planning and something you could throw together the night of. Text some friends, grab popcorn and a bag of sweets, and have a night in while trick-or-treaters roam. If you want something with more coordination, have friends bring over themed dishes or do a series marathon. Depending on the crowd, you could go with simple Halloween Cartoons or some of the many campy-to-chilling Horror titles out in the ether. 
As far as recommendations, I am always partial to Tim Burton or The Shining, so ask around, find a good selection, and have a vote. Or just get a hard-set flick and have a fully themed night, up to your level of dedication.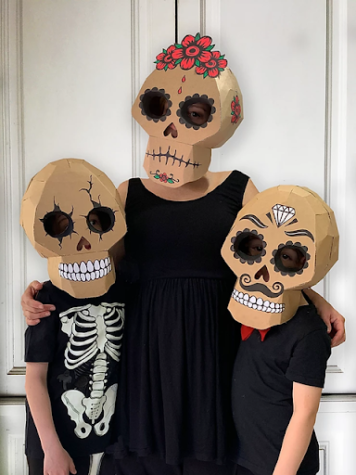 Host a Mask-Making Party:
This may connect to a group costume or could be a reason to get together. I made my friend group's masks (three masks in one afternoon), and they turned out great. You will need supplies and I recommend knowing who/what mask you want to make before starting. Supplies can vary depending on skill and effort, but the basics will be cardboard, paint, construction paper, and some form of glue or mod podge. I suggest mod podge because it's a water-based glue and a great silent for long-lasting projects. Have enough scissors for your group (vary the sizes for more detailed cuts) and plenty of brushes. 
Don't know how to start? Get a marker and draw a rough shape onto the cardboard. I would re-draw a few times to make it even and only work on one side. Cut out the shape with an extra ¼'' in case you want to reshape it. When you like the shape, get the glue/mod podge and construction paper, make a layer of mod podge on the cardboard and place the paper on top. Don't cut the paper before gluing it down, you can cut a general shape after the glue is down and fold the edges over the sides of the cardboard and glue them to the back. It keeps the shape and covers the messy edges. 
Wait for it to dry and sketch your face. You can start painting from here, or, if you want a more dynamic mask, you can cut out pieces from cardboard scraps, cover and glue them down like the base mask, and paint when that's dry. 
When you've completed everything, cover all of the masks in mod podge and let them dry for a day. It gives the mask a great finish and makes it extremely sturdy. I am a very basic artist, so there was the easiest method I found, but if you want something more challenging, there are plenty of tutorials online.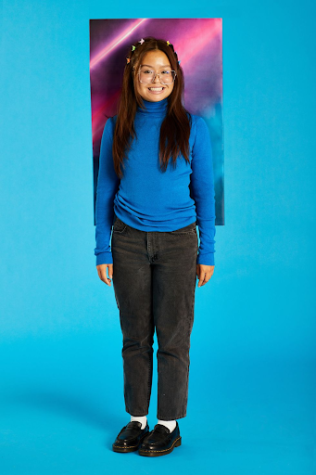 Throw Together a Last-Minute Look:
Ah, did you feel like Halloween was a bore and didn't want to waste time on a costume, but now you're feeling left out? Have no fear, there are plenty of cheap, simple costumes you can gather from your house or buy quickly from retailers. 
Do you have cereal in the pantry? Take the bags out, tear up the boxes, and staple/glue them to an old shirt. You could even make a mask of extra pieces or, if you want to be extra, cut out a knife from cardboard, paint the handle black and cover the top in duct tape. You're now a "cereal" killer. 
Have some old sheets and a pair of sunglasses? You're now Trevor, the Alpha Beta frat boy. Find a red SOLO cup for extra effect. If you are in good standing with a teacher or principal, dress up like them for the day and mimic their routines. This does require someone with a good sense of humor, so tread lightly.
 If you have a printer, another old shirt, and staples, be the Ghost of Test's Past (You could have all A's or all F's, depending on what effect you want). There are plenty of creative options, just take a gander at your costume closet or bin and you're bound to find something worthwhile.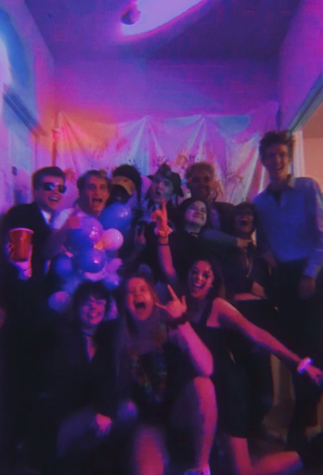 Wait a Spell and Plan a Mash:
Feeling rushed or wanting to do something big? Are friends too busy this weekend or just too tired? Wait and week and throw a big Halloween bash! There is nothing wrong with continuing the season into early November. I'm stuck with the same dilemma this year and I'm just waiting it out. 
Ask your friends for a date, give out food and drink instructions, find some cheap decor and make a playlist, you've got a banger of a party! It can be as simple or as complex as you want; I tend to lean on themed foods, one from each guest, and murder mystery games for my soiree. If you want to take the genuinely traditional route (and aren't bothered by ghosts and demons), get an ouija board out and perform a seance, play Bloody Mary or do Man-Hunt in a graveyard, eat soal cakes and meat pies or tell stories by a fire.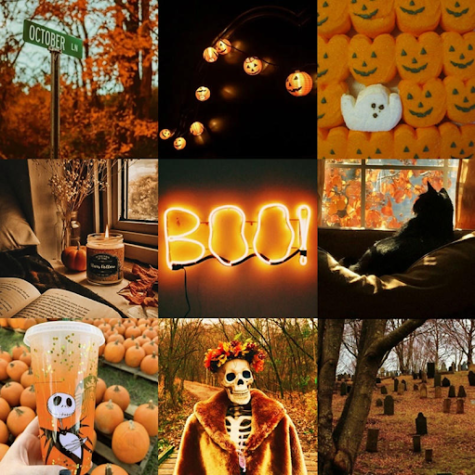 Whatever you choose, make sure you enjoy the season of haunts and happenings. During years when I wasn't up for Halloween, I found ways to make the most of the great weather, spooky decor, and fall spirit. It's a good time of year with lots of events, so give yourself a breather and find a scare. Anything you do will be in the spirit, and you'll make great memories with friends, so it's a win-win. Have fun ghostbusting!