Formula 1 Preseason: Mercedes Takes Jerez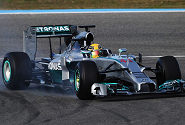 Hang on for a minute...we're trying to find some more stories you might like.
As the fans of Formula 1 prepare for the beginning of the 2014 season on March 16th, the cars and drivers have already been out on the Jerez circuit in Spain, making final adjustments to their cars.
Mercedes is the clear favorite after a few days of testing, but it hasn't been all positive for driver Lewis Hamilton. In fact, day one almost ended in disaster for Hamilton and the new Mercedes AMG powered W05.
As Hamilton entered turn one during his practice laps, the new front wing, which controls airflow over the front tire, failed, sending Hamilton and the new W05 into the barriers. With Team Mercedes and Scuderia (team) Ferrari spending more than 300 million dollars per season, the accident in practice was certainly a financial worry.
Fortunately, Lewis Hamilton was uninjured in the crash, and new parts for the W05 were flown in and installed overnight, and the Mercedes team was out testing and practicing again by midday on day two of practice, becoming the only team this year to complete an entire 69 lap simulation race, and also logging 306 practice laps of Circuito de Jerez (Jerez Circuit).
Scuderia Ferrari also had its fair share of technical malfunctions. Despite this, however, Ferrari drivers Kimi Raikkonen and Fernando Alonso were able to log over 1000 kilometers of track time. The Scuderia's 30 lap stints were the second longest only to Mercedes, and although the new Ferrari F14 T has yet to be tested at full power, (most F1 cars have limited power and performance during practice), sideline reporters say that the F14 T's gear changes were noticeably "cleaner" than many of the other cars out on the track. Scuderia Ferrari left Jerez after the 4 day test feeling confident and "delighted with their progress."
It was not all smiles at the first winter test at Jerez, however. Team Red Bull, last year's Formula 1 World Champions, logged just 21 laps of Jerez, with the RB10 spending more time in the garage than out on the track. It is believed that the car is overheating, due to tight packaging around the super-slim rear of the RB10. This is a very serious issue that needs addressing immediately, especially because the car was overheating during very short stints in mild January weather in Spain, before it had even been introduced into a warmer climate.
Still, as Sky Sports' Pete Gill, James Galloway, and Mike Wise write, "only a fool would write them off."  Let's not forget, Red Bull took the World Championship last year, with driver Sebastian Vettel winning the championship some 4 years in a row. Predictions are that Red Bull has put such an effort into improving the car; they have actually made it too powerful, and will have to scale the BHP (brake horsepower) figures back, in order for the car to work properly. If this is true, Team Red Bull will be a very serious contender once again this season.
McLaren driver Jensen Button assessed the new MP4-29 as having "no scary things with it," which came as a serious relief to McLaren, as the previous MP4-28 was seriously flawed. Plus, McLaren's day one issues with senior management structure prevented them from even getting out on the track until day two. Luckily, the MP4-29 was a huge success and a great way to start off the preseason testing. The car even got admiring looks from other teams and drivers, with a radical new rear wishbone design that helps direct airflow to the rear diffuser. After completing 245 laps, McLaren was behind Team Mercedes and Scuderia Ferrari in third place overall for total laps completed, with Ferrari only ahead by 6 laps, completing 251 in total.
With Williams, Sauber, and Force India all posting more than 140 laps each, the preseason tests at Jerez were a bit disappointing, but not disastrous for Caterham and Torro Rosso (the Italian Red Bull team.) As for Marussia and Red Bull, the Jerez testing was a failure, with both teams posting 30 laps or less.
As the season opener in March draws closer, teams will be making adjustments to the cars and trying to improve their lap numbers before the start of the season. With Mercedes and the AMG powered W05 sitting at the top of the board, the Italians at Scuderia Ferrari look to overtake Germans at Mercedes before going into the regular season.
F1 fans are looking forward to another exciting season, and possibly a new World Champion and a new team on the top of the podium at the Abu Dhabi Grand Prix at the end of the year.[1]