CPR Certification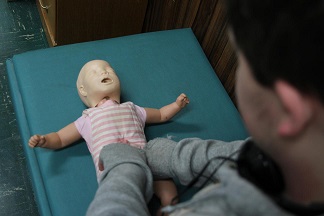 One hundred and sixty students recently became CPR certified here at Pentucket, and Mr. Evans says that ideally, "In a few years everyone in the building will be CPR certified."
This year Public Safety taught by Mr. Evans and Sports Medicine taught by Kate Gisonno, the athletic trainer, were popular additions to the current elective choices, and in both classes students have the opportunity to become CPR certified.
Public Safety is, "A course for any kid who is interested in public safety or any career involving public safety," says Mr. Evans. In class, he currently has some female students that intend on becoming nurses. All you must have is an "interest" in public safety to enjoy this class.
In regard to the CPR certification of his students, Mr. Evans says that "CPR is one of the most important skills you can learn," if you learn nothing else from his class. He also mentions it is valuable because "most of the time people have to use CPR is on a close friend or family member."
Kate described Sports Medicine as a class that is "good for anyone going into movement science, athletics, or any medical field," to take. She also stresses the importance of knowing how to do CPR by saying, "CPR is a valuable tool to have because you can save a life though using it."
In both classes, students would practice CPR, the Heimlich maneuver, and how to use an AED on mannequins. They had adult mannequins, large adult mannequins, child mannequins, and even baby mannequins, to ensure the students would know how to help every age.
After about two weeks of learning all about CPR, the Heimlich maneuver, and AEDs, students were given a test to become CPR certified. The test was made up of a written portion and a physical portion where the students had to perform all the maneuvers on the mannequins in front of the teacher.
Everyone involved in the process of the CPR certification seemed to understand the importance of it. Maddie Mcdonagh, who is currently taking Sports Medicine, said, "Learning about CPR was really interesting and it's awesome that I have the ability to save a life if I ever need to."
Teachers and students alike saw the CPR certification process as vital, and in the future many more opportunities will be open for more people in the school to become certified.
Leave a Comment