My Spotify Wrapped 2022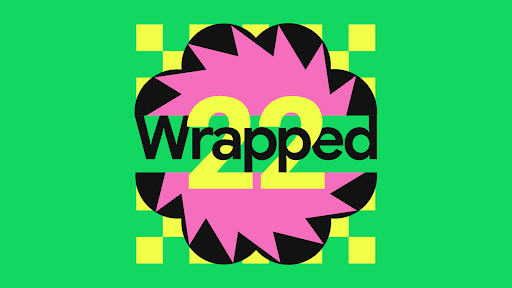 Spotify puts together a mini slideshow each year for every user summarizing one's musical journey on the app. My Spotify wrapped did not come as a surprise, though it is something I always look forward to.
Top Genres
In 2022, I explored 16 different genres. When listening to music, exploring all the different types of genres can give you so much to listen to and enjoy. My top five genres this year are Rap, Pop, Indie Pop, Alternative R&B, and Alternative Hip Hop.
Rap- Rapping is a musical form of vocal delivery that incorporates "rhyme, rhythmic speech, and street vernacular". The components of rap include "content", "flow", and "delivery". 

Pop- Pop music describes all music that is popular and includes disparate styles. Mainly mainstream music. 

Indie Pop- Combines guitar pop with DIY ethic in opposition to the style and tone of mainstream pop music. Characterized by pop conventions and structure, as well as melodic, lighthearted sound.

Alternative R&B- Alternative R&B is described as a stylistic alternative to traditional R&B but with many other musical elements like rock, hip hop, soul, jazz, etc. 

Alternative Hip Hop- A subgenre of hip hop music that mainly incorporates a wide range of styles that are not typically identified as mainstream.
Total Minutes 
In 2022, my total amount of play time was 51,543 minutes. According to Spotify, that was more than 92% of other listeners in the United States. 
Top Song 
Out of the thousands of songs I streamed in 2022, "Self Control" by Frank Ocean was my top song of the year. 
The lyrics of "Self Control" by Frank Ocean go in depth of a past relationship that he still wants. Both of them claim that they have moved on but it is clear that there is still feelings. The title of the song is based on their mutual ideology of "self control", they have a hard time staying apart from each other. What draws me to this song is its tone, Frank Ocean's voice in this song flows very well with its rhythm. 
Top Songs 
My top five songs of the year stayed between the same two artists, Tyler, the Creator, and Frank Ocean. Personally, I would have wished that other songs were included. Though Tyler and Frank are my top two artists, so it fits. 
"Self Control" by Frank Ocean

"Boredom" by Tyler, the Creator, featuring Rex Orange County and Anna of the North.

"Pink + White" by Frank Ocean

"Novacane" by Frank Ocean

"911/ Mr. Lonely by Tyler, the Creator, featuring Frank Ocean and Steve Lacy
Top Artist 
My top artist of 2022 is Tyler, the Creator. 
Tyler Okonma, also known as Tyler, the Creator, was born on March 6, 1991. He is an American rapper, record producer, director, and fashion designer. His music is real, he puts his whole mind and attention into his music. When you can tell an artist is not just making their music to be on top, or on the radio, but to speak to people, makes you enjoy them more.