12th Annual High School Battle of the Bands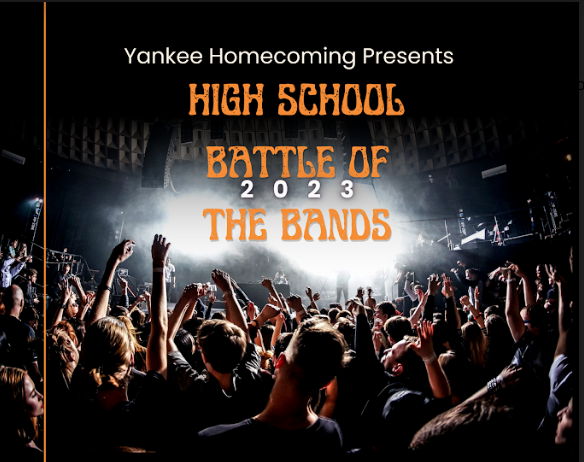 12th ANNUAL HIGH SCHOOL BATTLE OF THE BANDS
SATURDAY, JULY 29TH 2023 6:00 pm
Newburyport Waterfront Stage
Spring is around the corner and so is the Newburyport Yankee Homecoming 12th Annual High School Battle of the Bands.
We are thrilled that the YHC High School Battle of the Bands will be returning, Saturday evening, July 29th to the Waterfront Stage in Newburyport!
As always, It is FREE to the general public.
The prizes this year include:
First Prize:
Opening Act for one of the Yankee Homecoming  Waterfront Evening Concerts Series.
$100 Cash. Paid Performance on a flatbed truck in the YHC Parade, Sunday, Aug 6.  On-air interview at Evolvement Radio and their recorded song played live!
Second Prize:
$100 Cash.
Paid performance, Sunday, Aug. 6thon the Market Square Bullnose!
Third Prize:
$100 Cash
SOLO/ACOUSTIC DIVISION:
First Prize:
$100 Cash.
Paid performance, Sunday, Aug. 6thon the Market Square Bullnose!
Second Prize:
Gift Certificate TBA
There are a lot of great opportunities for high school bands in this competition. We have had bands hired for other events after competing on our stage.
The event is open to high school students attending school or residing in the Massachusetts towns of Amesbury, Groveland, Merrimac, Newbury, Newburyport, Salisbury, and West Newbury.  Eight bands will be selected to compete. One band will be accepted on a first come first serve basis from each of the following: Amesbury High, The Governor's Academy, Newburyport High, Pentucket Regional High, Triton Regional High, Sparhawk School, The Musical Suite, West Newbury School of Music, Zach Fields Drum Studios up to eight bands.  Judges will cast their votes for the winning bands. We will be accepting applications from area schools and students until June 29th after that date we will open it to any high school band up to our limit of 8 bands.
Please see attached details for further information.  A music instructor or band director must sign off all applications.
I have also attached a poster advertising the event.
Please check the Yankee Homecoming Battle of the Bands website for more information. 
www.yankeehomecoming.com
, HS Battle of the Bands Event, or Instagram at newburyportyhbattle.
We do need your help. Will you please post and distribute applications to any students you feel may be interested in participating in this event?  If you need more applications please email/call me and I can email you copies. We greatly appreciate your help and support. This is a great opportunity for kids to get out and have a wonderful, local, supportive audience.
If you have further questions regarding this event, please feel free to contact us. We greatly appreciate your help in letting the students know about this event.
Sincerely,
Cheryl Munick / Gary Gagnon
Co-Chairs YHC HS Battle of the Bands
Yankee Homecoming 2023
12th Annual Battle of the Bands Committee
C/o Cheryl Munick
978-363-8815
Here's the link to apply: