Bleach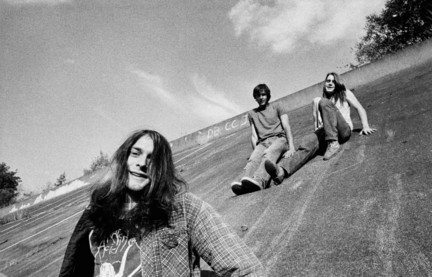 This June it will be 25 years since Nirvana's first album, Bleach, was released.
This album is Nirvana before they were famous, Nirvana before it was popular to sound"grunge", Nirvana before they created a cult of followers. This is an album that sounds like it was made in some dingy Seattle garage; it's an album that cost about six hundred bucks to record. Bleach is an enticing promise of what would become one of the best known alternative rock bands of the 1990s. It's not very refined, clean, or what you're likely to cite as their best record. But it's real, truthful, and a powerful first album. In its mess is unique beauty. This record was recorded by the band's first lineup consisting of bassist Krist Novoselic, drummers Chad Channing and Dale Crover, and singer/guitarist Kurt Cobain.
1. Blew. "Here is another word that rhymes with shame."
This song opens with a great bass line that transitions into power chords and heavy drums, and introduces Cobain's scratchy voice that says everything you want to hear. The distorted guitar solo jumps in after a victory yell by Cobain, who sounds like he's screaming for his eternal youth. It's captured in this song.
2. Floyd the Barber: "I can't see, I'm really scared"
If you look up the lyrics to this song, they're a little freaky. It opens with the screech of a distorter and in enters heavy drums that combined with the guitar and bass, make an alternative beat that sounds like upbeat poppy mosh music. If that's even a thing. Anyways, this song is good!
3. About a Girl: "No, I can't see you every night, free"
The guitar in this song is so great. From the opening riff to the chorus to the solo, it's all amazing and makes you want to jump. It's a love song, pure and simple, but it's a love song written by Kurt Cobain, so of course it doesn't sound like one right off the bat. His voice is desperately controlled, held down by Novoselic's bass and the steady, cymbal-filled drumming.
4. School: "No recess!"
More great guitar work. The lyrics…well. They're not as poetic as stuff off Nirvana's last album, In Utero, such as songs like Heart Shaped Box or All Apologies. But they're effective. Kurt Cobain definitely hates school. Although his lyrical talent is not, in my opinion, fully displayed in "School,"the band really comes together for the instrumentals. It's very catchy, in a dark, I'm-22-and-I-hated-high-school kind of way.
5. Love Buzz: "Please don't deceive me when I hurt you"
This song is actually a cover of a song by the band Shocking Blue, with a few changes to the lyrics. I may be somewhat biased, but Nirvana's version is way better than the original. Cobain's voice takes on a new persona here, and the whole thing sounds mockingly forced, like Nirvana's making fun of both the original song and love in general. It wouldn't surprise me, and if you listen to the entire record, it won't surprise you either. Distorters make the song fresh-overall, it sounds really cool and uniquely Nirvana.
6. Paper Cuts: "The lady whom I feel maternal love for, cannot look me in the eyes"
This song is intense. It's heavy and the drums are hard and the guitar is aching and the bass is heartily chugging on as you start to feel the pain and shakiness in Cobain's wailing voice. The lyrics talk of screwed up families and how much the experience of having one can wreck a kid's life for good. It's part screaming and part nails on a chalkboard and part the chanting of the one pure phrase in the song, nirvana. The song has a harsh mask, but underneath is some real meaning.
7. Negative Creep: "Daddy's little girl ain't a girl no more."
The riffs are quick, and Cobain is screaming. "I'm a negative creep, and I'm stoned!"goes the chorus-or maybe it's the verse. It's hard to tell when every line is repeated a bunch of times. It sounds kind of like "School,"and it's harsh and raw and rough around the edges. Nirvana's punk influences are clearly visible in this song. It's a song that would be played in a tiny club to dedicated fans that would happily screech along; it's a song that you definitely don't want to set as your alarm on a Monday morning.
8. Scoff: "In your eyes, I'm not worth it"
This song's pretty clearly about substance abuse, as the chorus demands "give me back my alcohol".  Cobain's voice is sounds like a redwood tree getting cut down with a chainsaw. It's thick and deep but you can hear the whiny, unsteady voice of an alcoholic coming through his mouth. (He may have been addicted to hard drugs a few years later, but Cobain was never an alcoholic). The song's pretty messy but has the same vibe as the previous track.
9. Swap Meet: "They lead a lifetime that is comfortable….She loves him more than he will ever know"
A futuristic twang starts off the song as it heads into heavy territory. Lyrically, the song seems to be about two people who pretend to be occupied with material goods so that they don't have to admit to loving each other. Instead, they hold onto bitterness, and Channing sure holds onto his drum sticks.
10. Mr. Moustache: "Wake me up with indecision"
This song starts off with drums that lead into a classic punk-style riff. Cobain's voice in this song sounds twisty and strange. As a teenager, he wrote a comic strip of the same name that criticized the stereotypical redneck men he was surrounded by as he grew up. Obviously song meanings change for each person, but personally I think it sends out the same message as the comic. It could also easily be interpreted as an attack on hypocrisy in general.
11. Sifting: Wouldn't it be fun?
I really like the tone of this song! It's pretty heavy and somewhat catchy in a strange way. The chorus of "Don't have nothing for you" is really well done vocally and instrumentally. Throughout the song Cobain's voice has his trademark scratchy tone; his vocals are similar to those on Nevermind's Smells like Teen Spirit. During Bleach, he manipulates his voice to create a range of emotions and heaviness and it's great.  A lot of the song seems like he is criticizing authority figures, such as those in education and religion.
12. Big Cheese: Sure you are, but what am I?
Again, the song's a big "screw you" to authority. The guitar is really distorted and ratchet (in an interesting way) at the beginning. Cobain continues to twist his voice around and mix crooked yells with classic primal screeches.
13. Downer: I sing, then some.
Honest to god, this song is so great. If you ever wanted to hear Kurt Cobain complaining in your ear, this is the song for you-the verses are spoken. The song itself makes some strong statements criticizing America and some of the wrongs in our society. I never hear anyone talk about this song, and I don't know why, because it's so awesome. It's very messy and wonderful and imperfect.
Most of these songs are pretty heavy and punk, they really set the basis for what Nirvana would become. Bleach is an album that hits you hard and knocks you over. My favorite songs on the album are Downer, Paper Cuts, and About a Girl. I really recommend that you listen to this album. It's never played on the radio, because it's not radio friendly or commercial in any way. Really, it's so interesting to look at this album and then look at Nirvana's last studio album, In Utero, and see the progression the band made both lyrically and instrumentally. This record is just very pure and untainted by the fame that Nirvana would soon possess. If you listen to it, you'll get a better understanding of the roots of the quote-unquote "grunge" genre of rock music as well as Kurt Cobain's mindset before his career really started.
View Comments (3)