National Soup Month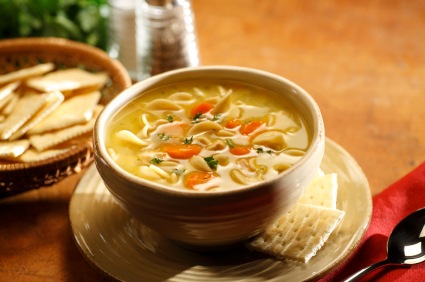 Along with the New Year, the month of January brings a very special appreciation: National Soup Month.
There are so many different types of soups that people enjoy. Sometimes, people eat a certain type of soup for its simplicity in preparation. Rebecca Torrisi says, "Campbell's Chicken Noodle Soup is my favorite. It's nice and tasty and wicked easy to make. It's a just add water type of deal.
Others take the taste under great consideration before enjoying a bowl of soup. "It has to taste specifically good to me for me to eat it. Like if I like canned tomato soup, but if I went to a restaurant and it was chunky than I would not want to eat it," says Emmy Desjardins.
Overall, people think taste is their top priority when trying new soups. Nate Hey says, "My favorite soup is from 'Mapow' in Newburyport. It's the Thai coconut chicken soup. I like the coconut broth. It's spicy but not too spicy."
Do the weather conditions become a factor for what type of soup you would eat? Rachel Thibeau thinks, "I thoroughly enjoy hot soup in the winter months because of its warmth as well as the multiple flavors. Personally, I enjoy clam chowder."
That brings up another good point. Is chowder the same thing as soup? Should they be separated? According to the dictionary, chowder is a type of soup that usually has a cream-based broth. Appreciation for great soups goes along with the love of many fantastic types of chowder as well.
Although we could go on about our favorite types of soup, most people have soups that they cannot bear to eat. "Ones with like mushrooms and vegetables in it are the worst kind of soup," says Ryan DePaolo.
Other people take soup to a whole new level. Kelly Murray chooses to look at soup on a closer scale. She says, "The type of soup you eat kind of determines the kind of person you are. It's like a weirder version of 'you are what you eat.'"
To some, the soup is not the thing that frustrates them. "I like soup, but I do not like spoons. If I could eat soup with a fork I would, but I cannot," says Ashley Magee.
Whether you like soup or not, the month of January is the time to appreciate soup in all its forms. Appreciate your favorites. Appreciate your least favorites. Appreciate all soups and chowders.
Leave a Comment