Best Beach Hangouts
When your crew is craving a beach day, the decision of which beach to choose is always tough. Many factors determine the ideal hangout. Here are the pros and cons of the best local beaches that will hopefully help making the choice of this summer's chill spot a little easier.
Salisbury Reservation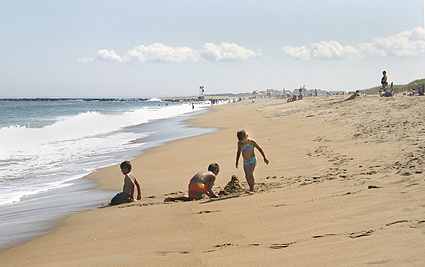 http://www.morebeach.com/images/stories/beachpics/newengland/northshore/salisbury_beach_425-1a.jpg
Known for its great size and white sand, this beach is located on both the Atlantic and the mouth of the Merrimack River. This beach is not only a great place to spend the day, but camping is also offered at this state park. It is a very family-oriented location and a fun beach for all ages.
It's perhaps one of the most notable beaches around, but beauty comes at a price. The lot charges a daily parking fee of $14 for Massachusetts vehicles and $16 for out of state vehicles, unless you buy a parking pass that allows you to park for free unlimitedly.
Juniors Rachel Thibeau and Kelly Murray say this beach is their favorite. Thibeau says, "I've been going there since I was little, so I'm used to it." She also made a point that the sand is "wonderful" and even at high tide there is still a lot of beach to enjoy.
Salisbury Beach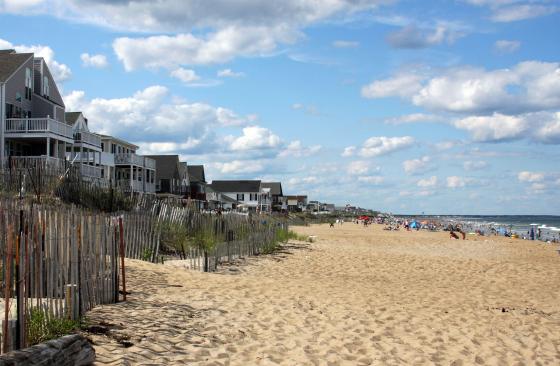 http://www.essexheritage.org/sites/default/files/styles/towns_and_attractions/public/salisbury_beac.jpg?itok=moYIPY_w
More widely known for its beach pizza instead of the beach itself, this hangout has a lot to offer. The public beach is subpar compared to the long stretch of waterfront that beach houses are located on, which take up a large majority of the Salisbury seacoast. This is still a fun hangout for the crew and should definitely be an option. Parking is available at meters and paid lots.
Hampton Beach

http://www.seawalksuites.com/782/summertime.jpg
If you are looking for more to do than just swim and tan, this is the place to go. Hampton Beach has an endless amount of activities that will keep you busy on a summer day. From arcades and waterslides to food and shopping, Hampton is always alive with crowds enjoying the fun it has to offer. Also, despite its reputation, Hampton Beach was rated in the top three cleanest beaches in the United States .There is ample parking that ranges usually depending on the quality of the beach day. If you don't park at a meter, you could be paying anywhere from $10-$20 for the day.
Seniors Lindsey Ago and Emily Galligan prefer this beach over any other. Ago says, "There's a lot of people and a lot to do."
The Wall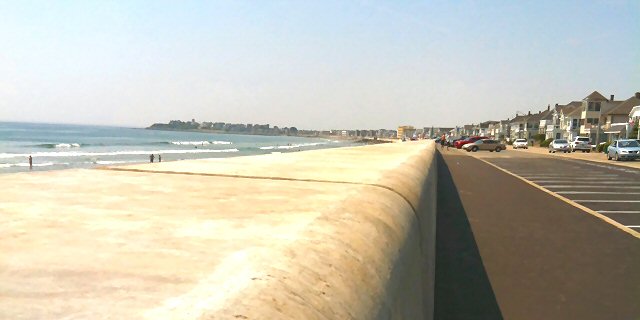 http://www.audleyconstruction.com/portfolio/hamp-seawall/seawall-end.jpg
Located in North Hampton, this beach is mostly dedicated to surfing. Once you make it past the boulders that surround the beach entrances, there is a huge stretch of beach blocked off solely for the surfing diehards. The sand itself is rocky, but the huge waves make up for it. Even if your crew doesn't know how to surf, the beach allows swimmers too. It's a cool place to spend the day, and parking is relatively cheap because the only parking available is at pay meters.
Jenness Beach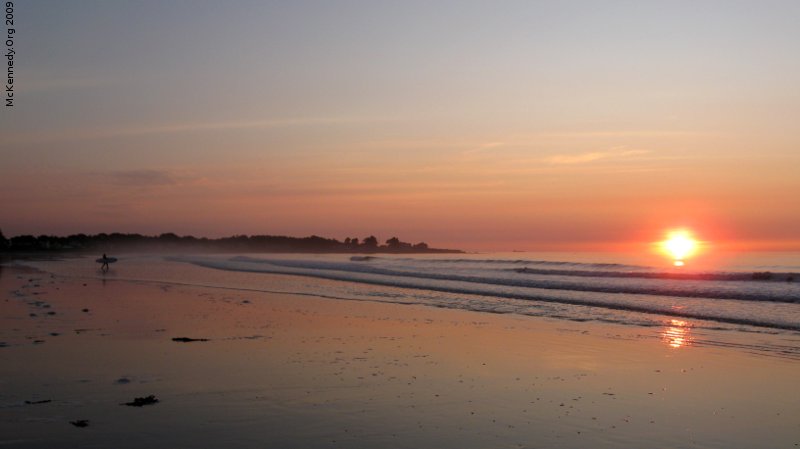 http://www.mckennedy.org/blog/images/articles/summer/beach/sunrise-jenness-beach.jpg
Located even farther north, this beach is one of the best surf beaches on the North Shore. Even though its location requires a lengthy drive up the seacoast, the drive is definitely worth it. This beach is not recommended for swimming, but even if you don't know how to surf you can take lessons or just spend the day watching the pros. Parking is only $2 an hour, but parking can be limited, especially on a day with big surf.
Crane Beach

http://takeadaytrip.com/wp-content/uploads/2012/06/IMG_0439-1000×288.jpg
This beach is hidden on the coast of Ipswich and is enjoyed all summer long by beachgoers and boaters. There are no waves at this beach, but the clear water and extensive sandbanks make this beach enjoyable. Parking is $10 if you are a member with a parking sticker, but it is more expensive at $20 for nonmembers. These prices increase by $5 on weekends and holidays. A Crane Beach Parking Permit for members may be purchased for $75.
Shannon Wesley and Emmy Desjardins, both juniors, love this beach. Wesley prefers this beach because it's "never super crowded" and always "peaceful." Desjardins says the beach "feels like a tropical island." In July and early August, Greenheads are a huge problem at this beach. Don't go during this time of the season.
Plum Island

http://96bda424cfcc34d9dd1a-0a7f10f87519dba22d2dbc6233a731e5.r41.cf2.rackcdn.com/newburyportchamber/what-to-do-images/686/686_660x400.jpg

This beach is popular because of its easy accessibility. Compared to other beaches it is closest to Pentucket. It is also much more affordable. The Massachusetts Travel Journal says, "Beach admission prices on Plum Island usually run in the $5-$10 range (for both the town-run section and the federal preserve), a price significantly cheaper than the two-digit prices you can expect to pay on most other popular North Shore beaches." You can purchase a parking pass for unlimited admission during the summer season for only $20.
Sophomore Katie Guisti likes this beach because it's "very naturey and there are lots of paths you can go on." However, strong riptides make swimming risky at this beach.  Abbie Thurlow, a Pentucket senior and Plum Island lifeguard, says, "Plum Island is a very fun and dangerous place to be." Greenheads also impact Plum Island, so be aware of this when you choose which beach to go to this summer.
Leave a Comment