CENTER STAGE BIDS YOU BEWARE THE IDES OF JANUARY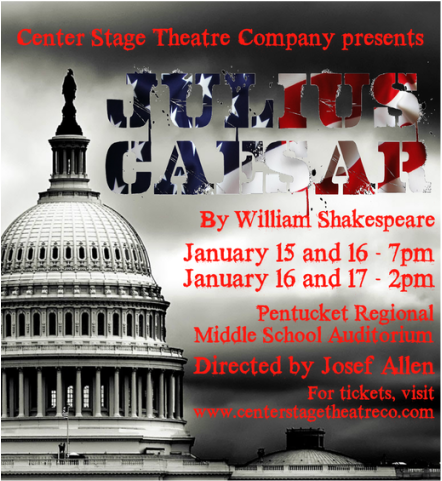 After being officially incorporated for only nine months, the Center Stage Theatre Company of West Newbury is putting the finishing touches on their third show. Their unique production of William Shakespeare's Julius Caesar is going to grace the Pentucket Middle School stage next weekend, and several Pentucket students and alumni are involved.
Center Stage Theatre Company was founded by Pentucket junior Josef Allen and senior Justin Peavey in November 2014, until it was officially incorporated five months later in April 2015. Since then, they have collaborated on a summer production of Legally Blonde: The Musical and organized a Broadway performance in December, both of which featured Pentucket actors and singers.
The idea to produce a Shakespeare play was tossed between the two of them shortly after the company was officiated. After debating which classic play to direct, they decided on a play that both of them had studied their sophomore year: Julius Caesar.
The play follows a group of conspirators, led by the infamous Brutus (played by Carli Hamilton), as they murder Julius Caesar, a dictator who has taken over Rome. When Caesar's good friend Antony (played by Seth Denault) promises to avenge his death, the conspirators must face the chaotic aftermath of his death, which consumes their lives with betrayal, loss, and war.
Director Josef Allen stated that he "decided to produce Julius Caesar only because the students study the play nowadays, and because it includes numerous, and surprisingly, relatable political statements that everyone can understand."
Allen had months to plan for the show, and decided to make it a production like no other. The Shakespearean text has been applied to a brand new setting: a dystopian America in the year 2037. The senators of Rome, led by Caesar, have invaded the country in an effort to improve the conditions that were caused by "ignorant politicians", but evidently worsen the country's government. According to the director, this twist is supposed to make a statement towards current political leaders.
"I think what we did with the piece is really neat," said Peavey, who serves as the assistant director and portrays the title role. "It's a unique twist that we could do a lot with. It's a creative update and I'm very proud of it."
The cast includes two other Pentucket students: Delaney MacFarland (sophomore) and Audrey Thronson (freshman), as well as Natalie Scott, a member of the Pentucket Class of 2015. Her other classmates joining her on the stage crew include Ashley Linnehan and Caitlin Miracle. Aside from one cast member, all of the actors are under the age of 18, making their interpretations and understanding of the Shakespearean text far more impressive.
Performances are taking place at the Pentucket Regional Middle School at 7 p.m. on Jan. 15 and 16, with matinee performance at 2 p.m. on Jan. 16 and 17. Tickets are available online at www.centerstagetheatreco.com for a low price of $12, which is cheaper than general admission at the door, which costs $16.
Leave a Comment