The Prom Experience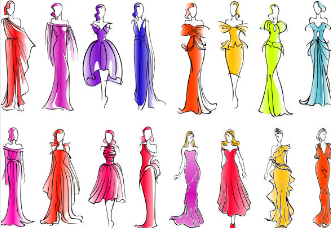 May 26th, are you ready? With the incoming prom season, 80% of surveyed students at Pentucket High School believe that the best time to buy prom dresses is before Valentine's Day. 
Prices For Prom Services and Dresses:
Many students pay for their prom dresses by themselves, so they believe their dresses should not exceed $500 in price. This causes many dresses from The Ultimate in Peabody, MA to appear ridiculously overpriced, as opposed to stores such as David's Bridal and Macy's, where dresses rarely exceed $200.
In a survey consisting of a handful of juniors and seniors at Pentucket High School, four of the students intend to get prom services done such as hair, makeup, and nail appointments, while only one student does not intend to get any prom services professionally done. 
The Dress Shopping Experience:
An anonymous student enjoyed her time shopping at Macy's because of how easily she was able to find her perfect dress. She stated that she only had to try on 3 dresses before buying one, additionally how she "was unsure about buying [her dress] at first but then [she] ended up buying it, and it was surprisingly under $200."
Another student who went to David's Bridal in Danvers, MA stated that they loved their dress shopping experience because "the staff there were very friendly to me and my mom while I tried on about 20 dresses. I'm actually really excited to go back there to get my dress fitted." 
A majority of students went dress shopping with a close friend or family member and enjoyed their experience of dress shopping. 
Concerns For Prom:
Most of the surveyed students worry that during prom, their dress may get caught on something and get ruined. Few of them are worried about their ability to dance while wearing the dress; the remainder of the students are not worried about their dresses being ruined during prom season.
Some girls posted their dresses on a private Pentucket Prom Instagram page designed to help stop people from buying duplicate dresses. Nearly every girl is deeply concerned with wearing the same dress as their classmates. According to The Daily Journal,  "Girls don't want to be compared to someone else who is wearing the same prom dress. Everyone wants to look pretty and special in their own way."
While girls do not want to wear the same dress as another classmate to the same prom, they find that reusing their dress for multiple prom nights is justifiable. Students who are attending proms at both Pentucket Regional High School and other schools, such as Whittier Regional Vocational Technical High School and Malden Catholic High School, intend to reuse their prom dresses to avoid breaking the bank.
Final Statement:
Each prom dress buyer wants her own unique, individualized experience in preparation for prom night, in and outside of Pentucket Regional High School. They want their own prom dress and have varying prom service appointments for one or multiple proms.