Debate Team Coming Soon?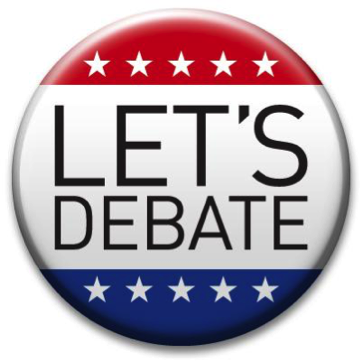 Do you like to argue your opinions in debates with your classmates?
Do you enjoy researching topics to support your opinions in debates?
If so, there might finally be an exclusive setting to do that in.
Having a Pentucket Regional High School debate team has been a topic talked about among students for many years, and recently there has been mention of finally starting one.
Pentucket Sophomores Liza Russell and Skylar Smith have both shown great interest in getting involved to start a debate team.
But the real question is how much progress has been made?
Last year, Russell's freshman year, she spoke to Principal Seymour about starting up the team. Russell has been passionate about starting a debate team since the beginning of her high school career.
Russell said that this year she brought up the idea again to some other teachers in a second effort to start the team. She said, "I recently talked to Mr. Siegfried and Mrs. Flynn, and they seemed very enthusiastic about being advisors."
When asked about her passion for a debate team, Russell replied, "Debate is such an important skill not only for school but for everyday life, so I think debate club is going to be really helpful."
Skylar Smith, also a sophomore at PRHS, has recently pushed for a debate team as well. Smith proposed the idea to Mr. Seymour through a letter that included a list of names of students who would potentially like to participate in a debate team.
Smith stated in his letter, "Where we stand at the moment, we have around fifteen friends, both girls and boys verbally on board with the team. Alongside a strong following, we have also talked to Mrs. Torosian and she has also verbally committed to be the teacher advisor for the club."
Smith also shared his intentions for the club and how it could influence Pentucket students in his letter when he said, "I have decided to create this club because of our passion for arguing our own opinions amongst our peers. Over the course of this year, we have been actively debating certain subjects in classes which were not exactly related to the subject being debated. Since we have realized that our debating has made us unfocused at time, we have decided to attempt to make a formal club specifically for debating. Our plan for this club is to get a variety of Pentucket High School students and meet around two to three times a month."
With a solid plan and proposal to Mr. Seymour, the debate team has started quite the conversation. The topic of Smith's progress in creating a debate team has spread across the sophomore class, and almost all of those students have become aware of the idea. This has become a great source of publicity for the formation of the club, and helpful towards bringing in new potential members.
Students are now patiently waiting to see if their ideas will be cleared, and a debate team will be formed.
Hopefully, the debate for a debate team will come to a conclusion soon.
Leave a Comment