Diving into the Shark Tank
Students of Mr. Beatrice's F period public speaking class are diving into quite an interesting assignment this week. Not one for conventional teaching, Mr. B has created an experience for the students that has never before taken place at Pentucket High School.
Based on the popular television show, "Shark Tank," students in the class are pitted against each other in a competition to see who can create the best invention. Not only do they have to invent a product, but they must charismatically present their invention to a selective panel of "sharks." The actual sharks are currently to be announced, but will most likely be four or five members of the Pentucket staff who will be asked to play the multi-millionaire investors. The common goal for the different groups of students is to impress the sharks with their product and presentations enough that they agree to invest in the company.
Mr. B is very optimistic about his new project idea and feels that it will benefit the students in many different aspects along with their public speaking skills. "It's meaningful in the way that students create an application from scratch, therefore having ownership in the project and presentation" said Beatrice. "I think they'll have a lot of fun with it" he adds.
The enthusiasm of the students is evident, and they seem to be truly invested in their ideas and creations. Olivia Spofford claims that when she first heard about Mr. B's idea she was "really excited" and "couldn't wait to invent her own product."
Not only is the project a fun activity for the class to partake in, but it gives students a realistic insight to what investment is really like, and how difficult it is to be successful in the business world. "It expands our thinking to involve the real world, not just school stuff" said Jeremy Binding. "It's exciting to actually learn something that we might be able to use in the future." Binding adds.
Although the project is a first time experience for all involved, the class seems to be taking it all in stride and embracing the challenges faced along the way. It is always refreshing to see classes run by teachers who truly enjoy what they are teaching and stray from the cliché ways of textbook curriculum. Mr. Beatrice is changing the school's outlook on the dreaded idea of public speaking and making it a fun and achievable skill for any who wish to participate.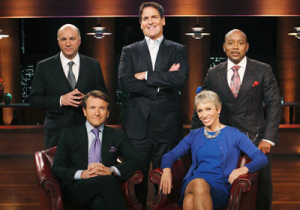 Leave a Comment