Stevin Bartholomew: Pentucket Alumnus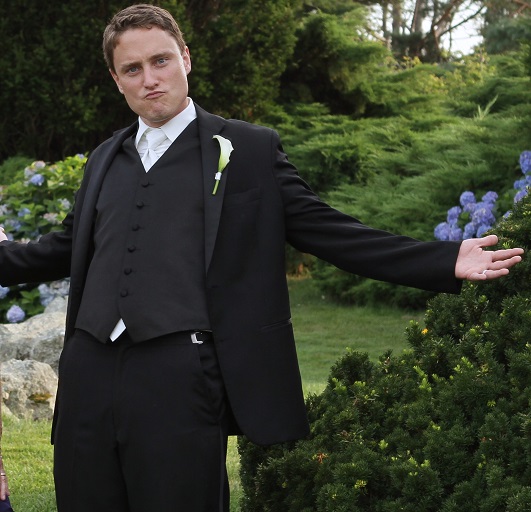 After college, would you want to go back to high school?
Probably not, but some do choose to teach at their high schools.
At Pentucket, video production teacher Mr. Bartholomew is one of the latter. Bart began high school at Pentucket in 1998 and graduated in 2002.
Mr. Bartholomew said that the reason he went back to Pentucket was that "I knew very few people at the time that went to other places. I had a couple friends that went to Whittier. I don't know why, but private school is now a big thing." Bart wanted to be with his friends at Pentucket.
Bart actually met his wife in Mr. Di Felices class. "The reason we are married today," said Bart "is because we sat next to each other in Di Felices class. We didn't date for ten yours or anything. We actually reconnected over a picture that Mr. Di Felice had on his wall."
Bartholomew added that he loved Mr. Jenkins' class and gym. He was also interested in an "independent interest class" that Ms. Cartier taught. He said that in the class students would learn to write checks, balance credit cards, and pay bills.
Some of the teachers Bart had are still here. They include Mr. Hayden, Mrs. Kelly, Mrs. Ducolon, Mr. Jenkins, Ms. Lynch, and Mr. Di Felice. Bart added "There are a lot of teachers here that were here when I was in school here but I never had them."
One memory that Mr. Bart shared is that in his senior year Mr. Ruland coached track. "The one thing I remember from it," Mr. Bart said, "was Ruland saying he'd rather go to a Guns 'N Roses concert than Led Zepplin."
Ms. Ducolon reported that "he was very chatty, energetic, and goofy." Apparently, Mr. Bart made great videos even back then. According to Ducolon, Bart made a "very entertaining and slightly inappropriate video on All Quiet on the Western Front and it was quite clear he had talent."
Mr. Bart was described as rambunctious, energetic, fun, and silly by most of his former teachers. Ms. Kelly added to this by acknowledging Bart's great sense of humor.
"I had him every year in school since he was a freshman." Said Kelly. "He was a wild man. Once in ultimate Frisbee, he was going so hard he ran into a wall and broke his finger. He was a mad man."
Bart did elaborate on this story. He affirmed that he had broken his finger in gym his senior year. However, he thought at first he had just dislocated it. "It was awful." Said Bart. "I would not wish that on anyone else." He went on to say, "I've never seen coach Hayden so disturbed as that."
Bartholomew said that he had to run the rest of the track season with a big cast on his arm.
Bart claims he never planned on becoming a teacher. It just happened. According to Mr. Di Felice, Bart was "just like he is now. He hasn't changed much." This seems to be the general consensus between all of Bart's former teachers.
Ms. Ducolon recalled Mr. Bart was known for a wrestling group that he and his friends had organized. She remembered how "he and his friends would do crazy tricks on a trampoline." However, Bart didn't think it was crazy at all.
Bart Says "We were not crazy. We were not like those people who go nuts. We were more theatrical." He went on to say that "everybody gave me grief about it, even to this day. I'm happy about it. We came up with the idea ourselves and it was fun. The only reason we stopped was because John Cena wanted us to stop and didn't want us to get hurt."
At Pentucket, there are many clubs and extracurricular activities, but nothing seems to compare to Mr. Bart's high school wrestling group.
Bartholomew added "we would plan out what we wanted to do and stories we wanted to do and people would come into my backyard – I lived on Main Street in Groveland. It wasn't like professional wrestling. We knew who was going to win. It wasn't like beating each other up; it was about telling a story.
"From the outside looking in" said Bart, "people say it's weird. For me, looking back, it was taking initiative, being creative and having fun. And people still remember it. Ms. Ducolon still remembers it and if people still remember what happened over ten years ago, it must be good."
Lastly, Mr. Bart told about why he came back to Pentucket. "I was working in television and it was fun – but when you work for a large corporation you make large corporation money." Bart paused for a moment and then said "Here I get to do what I love and show kids about video, which the otherwise might not have known or thought about."
Stevin Batholomew has changed many lives here at Pentucket by teaching students about video.
"The funny thing about Pentucket is most of the time people don't realize how good it is until you have more life experiences." Added Bart. "When you make friends and meet other people outside of the district you realize how good it is and how special it is."
View Comments(1)