Riverrun Farm (Magic Light Show)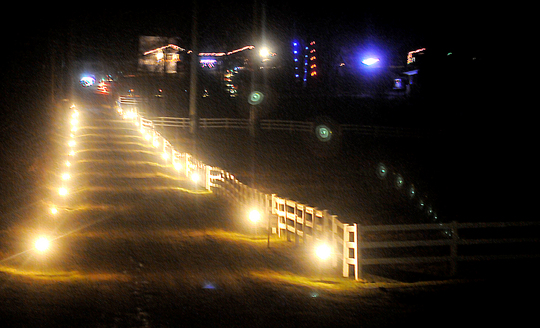 Christmas lights are a way of not only expression but spreading endless holiday cheer.
Every year around Christmastime Mr. Rick Feehery, owner of the Riverrun Farm on Main Street in West Newbury, puts up a spectacular display of lights corresponding with music. So far he's spent around $10,000 on the project in all.
The 54 year old biochemist has lived in West Newbury for 25 years and has worked at the New England bio labs for 28 years. He purchased Riverrun Farm in 1997 and his wife has horses there.
According to Newburyport News, Feehery spends about a month and half every year putting up 2 miles of cable, 20 solid state controllers, and dozens of sensors; illuminating them with steel, aluminum sculptures, strung with pulleys and cables. He uses an iPad as a control for his advanced system.
From 5pm to 9pm every night during the holiday season you can drive down the Riverrun driveway and turn your radio onto 90.5 FM Radio you can hear a variety of Christmas songs and popular songs today synchronizing to the lights and producing an awe inducing light show that will leave you warm inside and truly happy for the holiday's.
View Comments (10)