Girls Indoor Track Mid Season Recap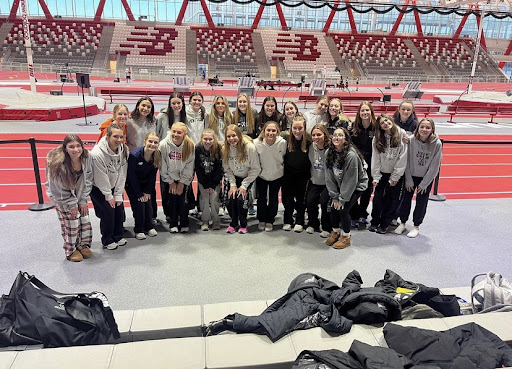 The regular season has officially kicked off for the girls Pentucket indoor track team. It's hard to believe, but the team is already near the halfway mark of their season. 
Unfortunately, the team fell to a strong North Reading team (52.5 to 37.5). Multiple placings and personal bests took place that night. Another close and well fought competition, Newburyport edged the team out (52 to 48). As the regular season continues, there are only a few weeks remaining until the post-season approaches.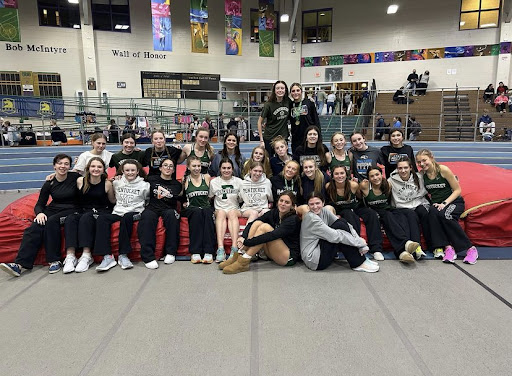 Despite tough losses against difficult teams early in the regular season, the team has done nothing but bounce back. Last weekend, the team traveled back down to the Reggie Lewis Center to compete in the Division IV state relay meet. 
Taking home third place, multiple outstanding and memorable performances were part of the night:
To start the night, the shuttle hurdle team of Brighton Seymour, Riley Bucco, Meaghan Grenham, and Wynter Smith placed second out of 12 teams. The team qualified for Nationals. 
Following shuttle hurdles, the shuttle dash A team of Sydney Trout, Lia Goodwin, Reese Gallant, and Sage Smith broke the school record, taking third place out of 33 teams. The shuttle dash B team of Morgan Gallant, Morgan Trout, Emily Bethmann, and Delaney Meagher took 18th out of the 33.
Many additional events and standouts took place throughout the night:
On the oval, the same team took second place out of 32 teams in the 4×200. The 4×800 team of Sofia Clemente, Lia Alsup, Libby Murphy, and Kaylie Dalgar placed eighth out of 16 teams. That same team took seventh out of 14 teams in the distance medley.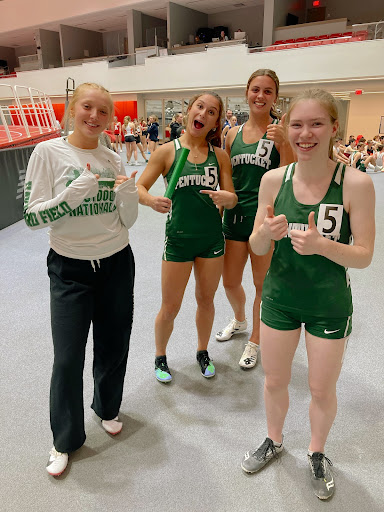 In the infield during the commotion, the high jump and long jump relays took place. The high jump team of Wynter Smith, Delaney Meagher, and Reese Gallant took first place. The long jump relay team of Morgan Trout, Emily Bethmann, and Sage Smith took fifth place. 
Over in the shot put cage, the relay team of Riley Bucco, Lia Goodwin, and Allie Bleichfeld took sixth place. 
Multiple JV and varsity athletes had the opportunity to help out at the state relay meet. From setting up, to handing out medals and helping at field events, to cleaning up, the meet could not have been successful without them.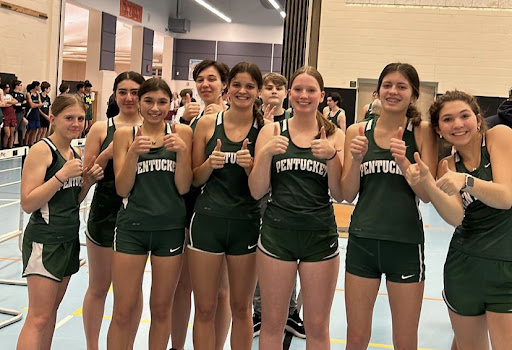 The Pentucket indoor track program continues to learn and build every day. Over at our JV meets, athletes have worked hard to better themselves each week. At their first meet ever, the team took first place out of all CAL teams. Their second week there, they took second place. 
Seniors and captains could not ask for a better start to their final indoor track season. Heading into the second half of the season, the team is excited to watch everyone race to the finish line… literally.