My Disney Trip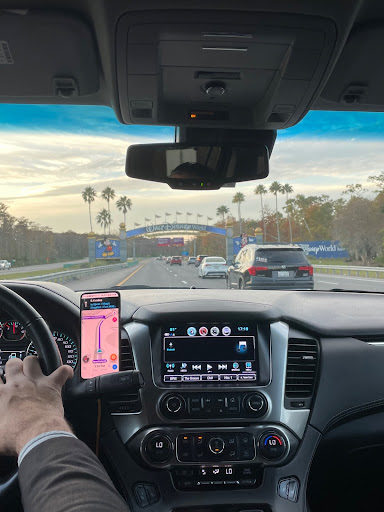 For Christmas this year my sister got a great surprise; a trip to Disney World. It was not a surprise to me as I had known we were going for a few months because I needed to take it off of work and plan accordingly for school. We went from the 1st to the 6th of January, starting the new year off with a fun adventure. As for the people we traveled with it was just us, my mom, dad, and nine year old sister. It was one of the best trips I have taken and would definitely do it again with them! While there I took many photos and took notes of what we did everyday in order to make this small trip diary. 
Day 1: We arrived at Logan Airport bright and early with lots of time to spare. The delays at Logan Airport were frustrating, but bearable.We got breakfast since we had slept as late as possible that morning in order to be charged and ready for Disney. I got a bagel sandwich from Dunkins and a drink from Starbucks. Due to the delays, our gate had gotten switched a few times. So, when it was time to go to the gate to board, I was a little nervous we were at the wrong one. But, despite my worries we were at the correct boarding gate with still time to spare. Upon landing in Orlando, we got our luggage and was greeted by our driver, Paul, who would bring us to our hotel. We stayed in Disney's Port Orleans Riverside Resort. The hotel had multiple pools, a gift shop, dining hall, and was inspired by Princess and the Frog themed. When we got to the room my family settled in and got ready for dinner. This night we had reservations in Disney Springs at The Boathouse. We took the ferry over, unaware there was a bus going to the same place. The ferry was a fun experience, but we had waited 40 minutes for a ride over. Next time, I think we would have taken the bus over since we were all very hungry and tired. Upon our arrival I discovered the menu here had a wide variety of options which was not common at Disney restaurants. Everyone in my family enjoyed their meal and we decided to turn in for the night since the long day of travel and waking up early had exhausted us.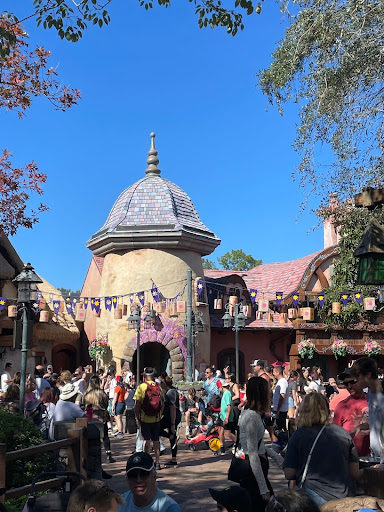 Day 2: It was the first day in the parks and we were headed to Magic Kingdom! We got there for rope drop and headed straight back to Peter Pan's Flight. This ride has one of the longest wait times, as it can only move 800 guests per hour. That may seem like a lot, most rides can move over two thousand. I sat with my sister on the ride and my parents sat together. The height of the ride made my sister a little nervous, but I held on to her and reminded her it was alright so she could enjoy the ride. After that ride, we went over to The Many Adventures of Winnie the Pooh. My sister really enjoyed this ride and she began to ease into the pace of Disney World and how it all worked. By the end of the day we had also gone on The Journey of the Little Mermaid, a carousel, Buzz Lightyear's Space Ranger, Jungle Cruise and the Tomorrowland Speedway. Personally, I enjoyed the Space Ranger ride. Last time we had gone my dad had beat me, so this year I got to get revenge  We headed back to the hotel after the Speedway and the rest of my family took a trip down to the pool to relax and unwind. Personally, I did not go into the pool until the last day, but my sister really enjoyed the pool and the warm weather that came with Florida.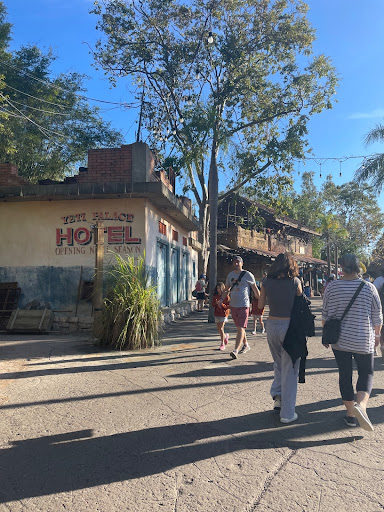 Day 3: We had another early rise this day and headed to Animal Kingdom. Right when we got off the bus, my dad and I headed for Expedition Everest. I love rollercoasters so this ride was a must. I would go on it over and over again, its one of my favorite rides in the park. Afterwards we met back up with my mom and sister who had done some walking around and shopping for candy. That morning we had gotten a Lighting Lane pass for the Kilimanjaro Safari, so we headed to the entrance after watching a drum show. The drum show was a cultural experience, there were a total of three men drumming, dancing, and making music. Although we did not know about this experience, it was really fun and was a cool experience to witness. This attraction was by far one of my favorites within the parks. It was so cool to see all the animals and get to experience the nature. Here you can find a presentation with photos from the safari. After we finished this ride we watched The Festival of the Lion King, an amazing show done by actors and acrobats. They sang songs from the The Lion King and even introduced some of the characters. It was like a circus act, just themed differently. After, we did a little walking around to shops, taking photos, and just overall taking int the park then decided to head back to the hotel. Back at the hotel my sister and parents went down to the pool, however I stayed back and took a nap. I had forgettin from my last trip just how exhausting Disney World can get. After my naps I was ready to head to Epcot for some night rides. We went to Figment's imagination, a ride that I thought would be fun for my sister. Just as I had imagined, she had a great time. After the ride we began our tour around the world. Epcot has features from all different countries and is truly meant for those who want to walk around and discover. I think that being able to discover different cultures is the best part of Epcot. That night we ate dinner at La Hacienda de San Angel. It was take out style and I shared some delicious nachos with my mom. After our stop in Mexico we continued our journey throughout the countries, skipping a few, until we made our exhausted exit.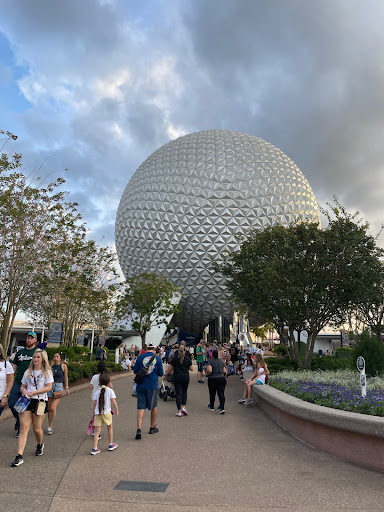 Day 4: This morning we got to sleep in longer than the past mornings. We had breakfast with the Mickey Mouse characters at 10 that morning in the Contemporary Resort. This was not an experience to miss. My sister was ecstatic to see all the characters as they greeted us right at our table. We got to take pictures with them and my sister even got a few signatures. It was such a fun experience to see my sister so happy to meet the characters. They were all super interactive and made breakfast a great experience. After breakfast we took the monorail over to Epcot, my favorite park. Now we had the whole day ahead of us in the park rather than just the few hours we had the night prior. This day we rode Spaceship Earth, Frozen ever After, and Soarin' Around the World. Although those were not many rides, we got to go back and tour all the countries we had missed the night before. I found it very interesting to see all the different cultures and how they were all brought together in one park. Here you can find some photos I took at Epcot of all the different cultural stops. I found Japan the most interesting country Epcot had to offer. There were many elements and brought the whole park together. After lots and lots of walking, we headed back to the hotel to rest for a little bit. I took another nap and we got some food before adventuring back out to the Magic Kingdom for a firework show. It was one of the best experiences of Disney World. My sister loved watching the fireworks and animations displayed on all the buildings and I was so happy to see a smile on her face.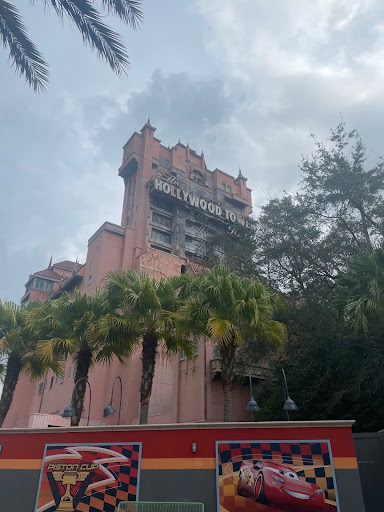 Day 5: This morning we set off to Hollywood Studios. Here my dad and I split off from my mom and sister due to different interests. My mom and sister went and watched a Beauty and the Beast performance while my dad and I went on Rockin' Rollercoaster. Personally, I found this ride to be the best rollercoaster I have ever been on. It was a good length and took you on many loops, turns, and even went upside down! After that ride my dad and I went on Star Tours, which was such a great experience. My dad and I used to watch all the Star Wars films together as I grew up so it was a nice moment for me to reconnect with him. Once we finished up in that area of the park, we reunited with my mom and sister who had also been having a great time themselves. Afterwards, we went on Minnie and Mickey's Runaway Railway, then saw the Muppets 4D, and finally settled for our dinner reservation at Mama Melrose's which was located in the park. The food here was delicious, I got pasta and meatballs and even my picky sister enjoyed her meal. It was a perfect way to wrap up our day… or so we thought. Later that night back at the hotel my sister was so happy to have gone on Minnie and Mickey's Runaway Railway. So us as a family decided to head back to Hollywood Studios that night just for the purpose of waiting for another turn on that ride.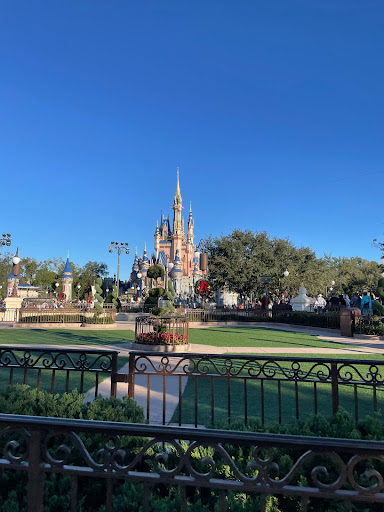 Day 6: This was our final day in Disney World and although exhausted, we were not ready to leave. We woke up early and packed up then got on the bus to Magic Kingdom. We got to the park at rope drop to quickly get in line for the rides we had missed. I went on Space Mountain and Splash Mountain with my dad. We got some snacks and took a train ride around the Magic Kingdom to soak in the last of Disney World. After we finished our last adventure in the parks we headed back to the hotel to finish packing up and then we left our luggage with the bellhop and headed down to the pool. The hotel pool had a small water slide, but a large pool of many depths. I went in with my sister and then layed in the sun to soak up the last of it while in the beautiful Florida weather. At 5:30 we met back up with Paul and he brought us to the MCO airport. I found this airport to be a breeze, the security line was not long, and there were people ready to help us check our luggage. We took off at about 8:15 and landed at about 10:30. This day was the hardest just because none of us wanted to go and it was such a long day. We got home and settled in for the night ready to catch up on sleep for the work and school week ahead.
This was overall such a fun experience and I can not wait to do it again in the future. Everyone in my family had a great time and it was such a good place to get away for a week and have fun. I was so happy to see my sister experience the magic of Disney and create good memories with our family.
All photos from Ella Agocs.