The Smiths' Split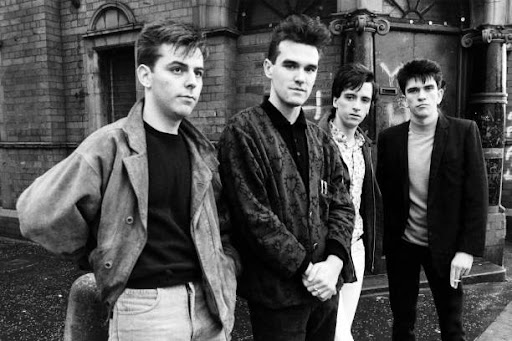 Many popular bands of the 70's and 80's are still not around today. Whether they broke up because of personal issues, tragedy, or artistic differences, many bands found out that what they had was not worth enough to keep. Popular bands like Led Zeppelin and Journey suffered tough splits. Especially during the time period of crazy rock bands every corner, these breakups shatter the hearts of rock fans until this day. A very notable band breakup we'll be talking about is The Smiths, known as one of the most emotional and heartbreaking splits of the 80's.
Who Are The Smiths?
The Smiths were an English rock band spanning from 1982 to 1987, playing genres like indie-rock, alternative rock, and also integrated some romance into their music. Members of the band consisted of Morrissey on vocals, Johnny Marr on guitar, Andy Rourke on bass, and Mike Joyce on the drums. The band went onto release their debut album The Smiths in 1984, which did amazing in the UK and received good reception. Following the release of their debut, they released singles, one of them being "Heaven Knows I'm Miserable Now", which is one of their most popular songs. 
The Smiths went on to release more great albums, such as Meat Is Murder (1985), a political album that reached number one on the UK album chart for 13 straight weeks. Although it was quite a short time period, the band had a relatively positive reception and did quite well overall. They were widely regarded as influential. They were a loved band, now more than ever. Many critics even theorized that the year the band split, it was their peak in their music careers. So why did they split?
The Split
Although the band still had overall success, and just released Strangeways, Here We Come (1987), tensions in the band were rising; specifically between Marr and Morrissey. Marr didn't agree with many of the decisions made in the band and was drifting away from The Smiths. The main point Marr made was that he wanted to "widen his musical scope". Marr took a break in 1987, and when an article titled "Smiths to Split" was released, Marr immediately took it as Morrissey being behind it. 
Marr and Morrissey just did not work well together. Marr did not like Morrissey's musical inflexibility, and Morrissey did not like Marr's desire to work with other artists. Therefore, Marr left, and was soon replaced. 
However, with Marr being gone a lot of the material didn't sound the same. Marr was an important part to The Smiths, and having someone else try to fill in that spot was difficult. Ivor Perry, the guitarist that took over Marr even stated that he was uncomfortable at sessions, and it seemed like they were "looking for another Johnny." The band split soon after Strangeways, Here We Come was released.
Many fans wanted a reunion, but as time went on Marr and Morrissey went on to have very bad blood. Marr didn't want anything to do with Morrissey, and vice versa. Morrissey claimed that "The Smiths are never, ever, ever, ever, ever, ever, ever, ever going to reunite – ever." Marr refused any possibility of working with Morrissey. Marr put it into simple terms saying he's not close with Morrissey because they're "too different." Basically, there sadly will never be a reunion for The Smiths. Ever.