Top 5 Outerwear for The Chilly Winter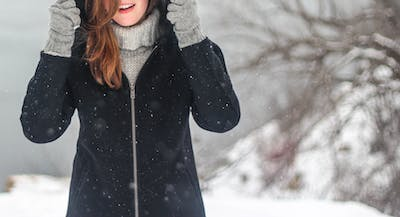 The winter season is here and the snow is falling hard, but just because the temperature is dropping does not mean that we have to drop the ball with our style. With coats, sweatshirts, fleeces, and more, the options are endless for what students can wear outside until they get into the building. These are the top five best choices for outerwear in the cold. 
#5 Vest
Vests have certainly made a comeback in the fashion world in the last few years. They maintain the heat in your body while continuing to offer the ability to move your arms without restriction. However, depending on how thick the vest is, people are often still cold. Even still, vests are a fashion statement as well as a comfortable one, making them number fiveon the list.  
#4 Coat
Coats are definitely the warmest option on this list, however there are many downsides to the garment, especially for students. One of these is the inability to put it in your backpack. It may fit in there if you barely zipper it and walk around with your backpack looking huge all day, but is that really worth it? 
Also, coats can mess up the outfits that some people chose to wear. Coats can cover up the clothing they chose. Coats can also be very restricting to a person's movement depending on the type they choose. Either way, a coat is a very nice choice to keep you warm this winter. 
#3 Light Jacket
When I say "light jacket," I am talking about fleeces or down jackets, anything that is lighter than a coat, but not quite a sweatshirt. These are not only easy to store but they also keep you relatively warm depending on the amount of layers being worn. Things like these also come in a variety of styles and colors which can help to not "ruin" the way an outfit looks as a coat would. 
#2 Sweatshirt/Hoodies
Sweatshirts and hoodies are definitely the most popular among students. People love oversized sweatshirts because they not only are very comfortable and cozy, but they also make a very nice outfit and can go with anything. They are not a statement piece of someone's fit check but they most definitely go with almost anything and are a  great addition to your winter looks.  
#1 Flannels
Flannel season is all year round in my opinion. Flannels come in different colors, patterns, and textures, and they are able to be stored quite easily. They also have different levels of "thickness" in terms of how heavy you want them to be. 
There are some that are basically just a shirt, and some with thick fleece on the inside that act as a coat would to keep you warm. Flannels make their way to number one because they not only are the most stylish option but with that they still manage to keep you warm. 
There are many different choices for what to wear to keep yourself from getting chilly including many that were not listed. But whatever you choose to wear this cold winter season, make sure that you are keeping yourself warm and safe.