Pentucket Teachers' Secret Musical Gifts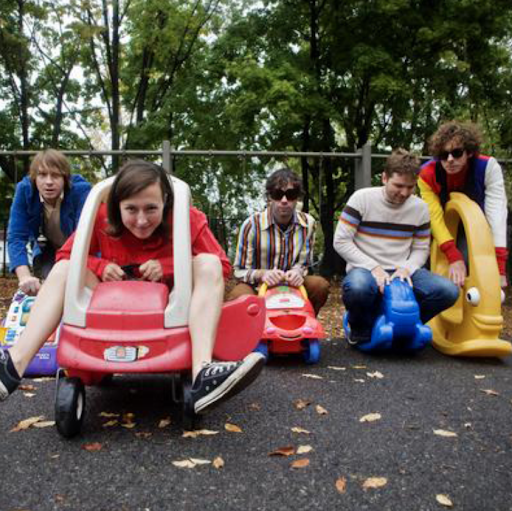 Hiding among the countless teachers at Pentucket are gifted musicians that have yet to have been discovered by their own students. Some are recording artists, accomplished performers, but all share the common love and talent for music. Read the bios and listen to the music of your favorite teachers and discover the secret talents at Pentucket!
Mr. Langlois and Mr. Sherman
About 20 years ago, Mr. Langlois and Mr. Sherman created a parody of the songs "Samba Hop" and "Music Evolution" for Mr. Schumacher and the jazz band. They were both known as "amateur rappers" and the production of the song was on the same level. The song was produced in-house  and recorded in the theatre classroom at the old school. The songs were later performed at the Arts Festival and it went "almost flawlessly," according to Mr. Langlois. Although he described the memory as "one of the highlights of [his] time," Mr. Sherman has denied our request to comment. Below are links to listen to this epic music collaboration. 
Mr. Casey
Mr. Casey, along with being an inspiring english teacher, is a gifted, successful musician. He grew up with music in the house, his mom particularly loved The Beatles and associates Bruce Springsteen with drives around the Irish countryside, where he grew up, with his dad. Everyone in his family plays an instrument and along with the sheer love for music, many members of his family are professionally involved in music. His uncle is a professional singer and two of his cousins are in a band, Hermitage Green, which is available to stream on all platforms. Before becoming a teacher, Mr. Casey was a part  of his own band, Baker, which he is currently on hiatus. In 2007, they created an album called Bike Ride. Described by Performer Magazine as having "dynamic unpredictability," the album showcases the impressive songwriting ability of all the band's members and accompanies these talents with a fun and upbeat sound. The process of creating the album had a "disjointed feel," according to Mr. Casey, due to their varying process. The band signed to a label and wrote, recorded, and performed a few songs at a time until the album was created. Despite this unpredictable time, Mr. Casey found the experience to be "very satisfying." Today, Mr. Casey continues to play guitar, although not as frequently as before  and is even expanding his musical abilities by learning the mandolin. You can find Baker's album Bike Ride wherever you stream music but below are links for easy access. 
Gotta Get Outta this City – Baker
Mr. Schumacher
Mr. Schumacher is not only a successful band leader at Pentucket, but he also uses his impressive musical abilities to privately teach countless children and professionally create music. In 2009, he released a critically acclaimed  jazz orchestra album titled Edge of the Mind that has been performed by artists, bands, and schools across the country. His album is available to listeners on all streaming platforms and below in the links. 
Edge of the Mind: Breaking Point – Sound Assembly
Edge of the Mind: Edge of the Window – Sound Assembly
Edge of the Mind: The Radiance of Spring – Sound Assembly
Edge of the Mind: My Star – Sound Assembly
Mr. Torossian 
Mr. Torossian, although rightfully credited with being a great music teacher at Pentucket, has professional experience with music, showcasing his incredible ability. Like Mr. Casey, Mr. Torossian has had experience with music in his family since a young age. With influence from his father, he learned guitar at age ten and has been playing music ever since. He even played twice at Sympjony Hall in Boston twice with his school's orchestra. His success has only built from there; he plays a wide variety of genres and instruments but is part of a funk band, Supernothing. His experience making music is "an experiment in self-expression" that he will "never stop doing." Not only does he create music with his band, but he is currently composing music on his own. Mr. Torossian's band can be found on all streaming platforms. Below are some of Mr. Torossian's performances.
"Behold" Live at Revelry Studios
"Good Vibes and Sunshine" Live at Revelry Studios
Mr. Hartigan
Taught by directors in prestigious groups such as Boston Ballet and the Boston Pops, Mr. Hartigan is a gifted percussion performer and teacher. He teaches not only at Pentucket but privately in Newburyport and has worked at UMass Lowell and Miguel's School of Music in Dracut. Gaining years of experience, he received UMass Lowell's Performer Award in 2015 and has played among orchestras and bands around Massachusetts. Below are links of Mr. Hartigan's performances and EP. 
Real Love – Liz Bills (NPR Tiny Desk Competition 2020)