My Top 5 Favorite Johnny Cash Songs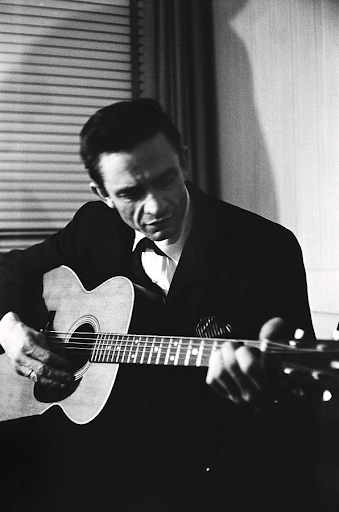 Johnny Cash is one of my all-time favorite artists, and I think his music is great for car rides, doing yard work, hanging out with your friends, and reminds me of being in New York at my grandma and grandpa's house in Attica, New York. Not a ton of people heavily listen to Johnny Cash, but if you start to I would recommend listening to these top five.
5. The Man Comes Around (2002)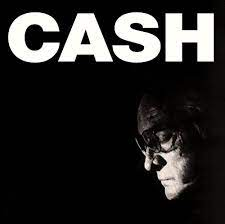 As a boy, Johnny Cash grew up in the church. He started up his career in the music industry in 1955. After many rough experiences throughout his career, the man in black eventually came to be a man of Christ. 
During the prime of his career, 60's and early 70's, Cash had been a severe abuser of drugs and alcohol. He nearly ended his life in 1967, as he felt that there was nothing left for him in this world. That is until he came back to God and surrendered his life to Him. 
"The Man Comes Around" is about Judgment Day, (Matthew 12:36, many times throughout the book of Revelations, Romans 14:10, 2 Corinthians 5:10, Ecclesiastes 12:14, Acts 17:31) when everyone will stand before God and reap what they have sown in this life, the day when every man, woman and child will be judged before God the Father.
The reason I have this song so high among all of Johnny Cash's bangers is that it has a deeper message to it than most think. The lyrics are cleverly put together and contain events from the Bible such as the potter's ground of Judas Iscariot, Armageddon, etc that create a meaningful purpose within the song. 
Overall, this song has a great message, a deep meaning behind it, and I honestly just like the way it sounds.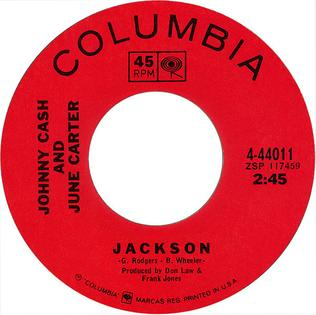 Johnny Cash wrote and performed this song with his future wife, June Carter. This Johnny Cash and June Carter Cash song talks about a couple who has lost the "fire" in their relationship and needs to go to Jackson to regain that fire. It is ironic because the song was released in 1967 by Cash and Carter, and the next year the two were married. 
Johnny Cash and June Carter had a fun career together on top of the fact that they were married and eventually had a child together. They were married from 1968-2003, and  the only thing that could (and did) break up their marriage was death. June died on May 15, 2003 and about seven months after, Johnny Cash died on September 12. These two had a tremendous marriage and an even better story together. They made many great hits together, but Jackson is my favorite song by the duo.
Overall, this song never fails to lift my mood and is very catchy., which is why it is coming in at the fourth spot on my list.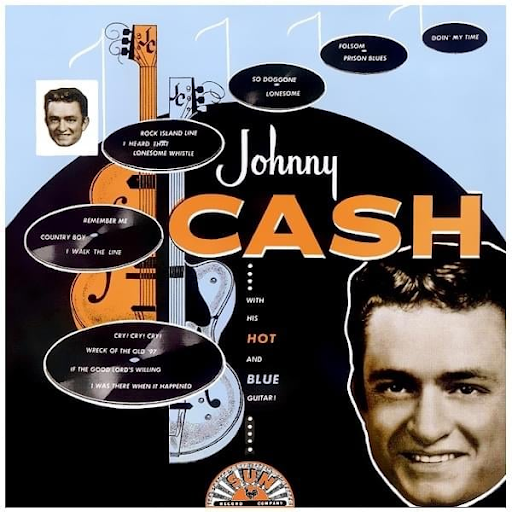 Not much is known about why this song was written or who it's about, but in the Johnny Cash biography movie "Walk the Line," he wrote the song about his first wife who often complained about Johnny not being good enough all the time. This only pushed Cash farther and farther away from her and her attitude towards him is most likely what made him write this song.
All of Johnny Cash's work with the Tennessee Two is very catchy and easy to get stuck in your head, and that is what makes this one so high on my list. It is a very memorable song that you can easily sing along to if you listen to it a couple of times.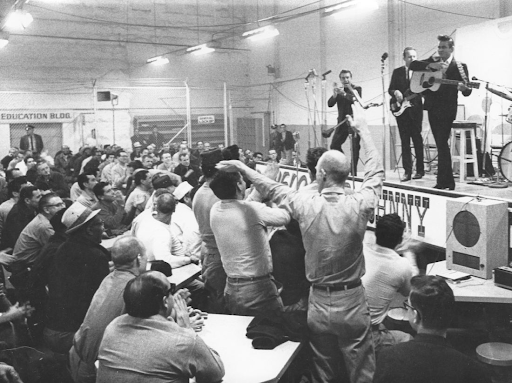 In 1953 while deployed in Germany, Cash wrote Folsom Prison Blues, one of his earliest songs that was later made into a big hit. He never went to Folsom Prison, but was inspired by the 1951 drama film "Inside the Walls of Folsom Prison." 
This song is what spiked my love for Johnny Cash's music. I started listening to this song on repeat in 8th grade and fell in love with it. I liked it so much that I'd listen to it when I would do homework, yard work, walking the halls in the old middle school, and even sometimes when I'd be working out. 
Johnny Cash is my number one most listened to artist on spotify and it is all because I heard this song playing on a speaker while my dad was making dinner one night and I instantly fell in love with his music.
Fun Fact: Johnny Cash famously performed at Folsom Prison in 1968 for all of the prisoners and sang this song to them.
Honorable Mentions: 
–Ring of Fire (1963): Not only is this a trendy and catchy song, but it is one of Johnny Cash's most popular songs of all time. Many heard it for the first time last summer, as it caught some traction as a popular TikTok audio in 2022, but I remember first listening to Ring Of Fire when I was sitting on my kitchen table as a 5 year old. 
Fun fact: June Carter wrote the lyrics to the song. They are about her and Cash's relationship, as being with Johnny Cash felt like being "around a ring of fire." This did not make my top 5 but is certainly in close contention with The Man Comes Around.
–Ballad of a Teenage Queen (1958): Although there is no personal meaning behind this song, it's a nice song that expresses true love. A teenage girl who becomes a movie star and has everything, leaves all of it for the boy she left behind in her old hometown. If I were to make a top ten, it would definitely be on that list. Overall, it is just an easygoing and mellow song.  
–Sunday Morning Coming Down (1972): This song is about a man who has a hangover and goes out into a calm Sunday and watches the unappreciated beauty of everyday life. I included this song because it is my dad's favorite by Johnny Cash. It's a wholesome song even though it talks about having a hangover, because he sings about what is happening around him on such a lovely Sunday.
1. Girl from the North Country (1969)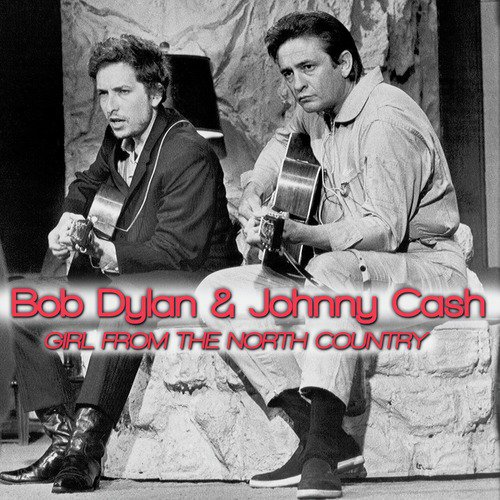 Even though this is a Bob Dylan song, this version with Johnny Cash has a completely different mood and sound to it than Dylan's original piece. The emotions it portrays are absolutely outstanding. Personally, the melancholy sounds and vocals can make the song feel very personal to anyone. I, for instance, have it ranked so high simply because of the mood.
The song was written because of a girl. It  doesn't talk about his love for her specifically, but he focuses on his redolent feelings for the girl he once knew and the feelings he once had. As I've also mentioned, listeners can all somewhat relate to the reminiscent lyrics and can connect with Dylan and Cash on some level when it comes to this song.