What's Your Favorite Comfort Food?
When you're having a tough day, one of the best things to do for yourself is eat your favorite comfort food. Whether it be pasta, soup, or your favorite salty snack, comfort foods are a great way to turn a bad day around!
What is Comfort Food?
Comfort food is any food that provides comfort, hence the name. Many times, these foods are associated with memories of one's childhood or home-cooked foods. 
By definition, comfort foods are high-carb or high-sugar meals. Some examples of these foods are french fries, soups, and pastas.
Why are Comfort Foods Comforting?
Because of their connection to happy memories, comfort foods have a way of bringing one to a place of happiness.
  Also, because they are high in sugar and/or carbs, they taste very good. Sometimes, when you're having a bad day, all you need is a good, delicious meal to pick you up. This is the purpose of a comfort food. 
Pentucket's Favorite Comfort Foods
Kat Valeri, a sophomore, said that her favorite comfort food is chicken noodle soup. Valeri said, "when I was younger, my mom always made it for me when I was sick." She added that it's the perfect hearty meal, as, "It's got protein, it's got vegetables, and it's got grains."
Many people have different kinds of pasta as their comfort foods. Paige Nottingham, another sophomore, said that she loves alfredo pasta. Her reason is simple, she said, "it's yummy and I like pasta."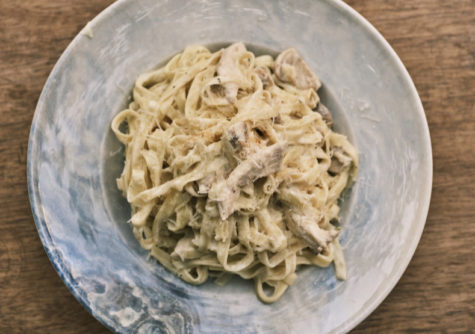 Similarly, Ava Diburro, a junior, said that her comfort food is mac and cheese, specifically Annie's brand. She explained, "It is my favorite because it is easy to make." 
The ease of cooking is popular with people's favorite comfort foods. Richard Harty, a history teacher here at Pentucket, said that his favorite is "chicken pie because it's easy and yummy." He also explained that he really loves the crust of this pie.
A senior, Jessica Brann, said that her favorite comfort food depends on how she's feeling. However, she said, "Overall, my favorite comfort food is shell-shaped pasta with butter and salt. Brann explained that, as well as being easy to make, the warm, buttery taste "comforts [her] soul." 
Another senior, Justin Doucette, said that the best comfort food is butter chicken. Doucette said that it has a  "10/10 balance of spice and comfort and never makes you feel overstuffed or like your mouth is on fire." Doucette also added, "I 10/10 recommend this dish even if you don't like Middle Eastern or Indian Food."
Next, James Nightingale said that his favorite comfort food is Cheez-its. Nightingale explained that he enjoys "the crunch, the slight saltiness, and the ability to eat a lot of them." 
Finally, Laken Graham, a sophomore, said that the best comfort food is mashed potatoes. Graham said that as well as being delicious, mashed potatoes "save well in the fridge so I can have leftovers all week…I never really get tired of it." 
Overall, Pentucket students and staff have a wide variety of favorite comfort foods. Keep reading to see some delicious recipes for them!
Recipes!
Chicken Noodle Soup: https://www.allrecipes.com/recipe/26460/quick-and-easy-chicken-noodle-soup/ 
Alfredo Pasta: 
https://www.allrecipes.com/recipe/23431/to-die-for-fettuccine-alfredo/ 
Chicken Pie:
https://www.foodnetwork.com/recipes/trisha-yearwood/chicken-pie-recipe-2109439 
Butter Chicken:
https://cafedelites.com/butter-chicken/
Mashed Potatoes: