Mamba Mentality
Kobe Bean Bryant was born on August 23, 1978, in Philadelphia, Pennsylvania. 
Kobe´s mindset helped him become one of the best basketball players in the world and led him to his legendary legacy. Kobe's mentality separated him from a great to a legend.
Kobe was a man full of wisdom and tremendously inspired the younger generation. Kobe had an impact in the real world and an even higher one in the basketball world. Kobe played in the NBA for a staggering 20 years with the Los Angeles Lakers, which established him as one of basketball's all-time greats. 
Accolades:
5× NBA champion (2000–2002, 2009, 2010)

2× NBA Finals MVP (2009, 2010)

NBA Most Valuable Player (2008)

18× NBA All-Star (1998, 2000–2016)

4× NBA All-Star Game MVP (2002, 2007, 2009, 2011)

11× All-NBA First Team (2002–2004, 2006–2013)

2× All-NBA Second Team (2000, 2001)

2× All-NBA Third Team (1999, 2005)
It is clear that Kobe Bryant couldn´t have been as successful as he was without his Mamba Mentality which gave him an insane amount of determination and focus. He had a mindset like no other and it paved the way for all of his success, accomplishments, and accolades.
Mamba Mentality
Kobe Bryant had what he liked to call the Mamba Mentality. He developed it around the age of twelve or thirteen years old and only got stronger as his career progressed.
As an athlete, it´s crucial to be in tip-top shape physically, but what´s even more important, and does not get the attention it needs, is the mental side of being an athlete. Someone can have a 6´4, 225 lbs athletic figure, but if they lack mental toughness their chances of competing in any sport at a higher level are brought down drastically.
Mental toughness is an important skill that helps us get back up again after we fail,  and it helps us to resist being brought down by negative thoughts or emotions. There will be people that try to bring us down, but if you try to break someone down who is mentally tough you will struggle.
What The Mamba Mentality is 
¨The Mamba Mentality simply means trying to be the best version of yourself. It means every day you´re trying to become better,¨  Kobe once said in an interview with YouTuber Dr. York.
Kobe Bryant was all about hard work and focus with one goal in mind: to become the best basketball player he could be. 
He was relentless and 100% committed to pursuing the perfection of his craft. He was strictly focused on pushing himself to reach new heights and he was always looking for any little thing in a situation that could make him better. 
Kobe was only interested in things that would get him one step closer to his goals, and if it were anything otherwise he would count himself out. At the early stages of his career, this meant no partying, and no vacations with anyone because it meant he was taking time away from becoming the best version of himself. 
Kobe Bryant's mindset guided him to endure all the sacrifices, embrace any given situation, and kept him focused on what was important to him. His mindset was a critical piece that led him to accomplish all he did.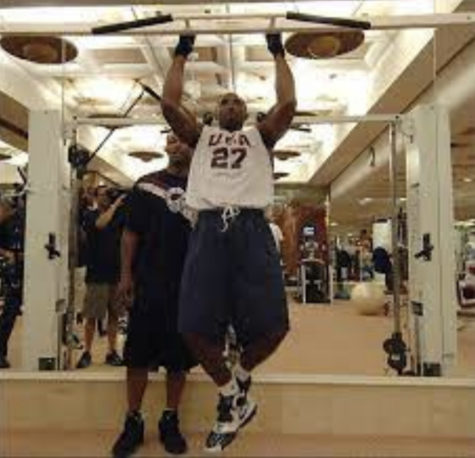 Kobe´s Work Ethic
Kobe made a lot of sacrifices to outwork others. 
Because his number one priority was becoming the best basketball player in the world, Kobe was aware that in order to be the best, he had to outwork everyone to be ahead of anyone else. 
Kobe made a schedule that worked for him and helped him get ahead of his competition, which consisted of 3 am wake-ups, and an 11 pm bedtime so that he can get plenty of workouts throughout the day.  
Start Earlier
During the interview with YouTuber, Dr. York, Kobe thoroughly broke down two different scenarios to show how much more we are capable of doing. 
Scenario 1:
¨If you get up at 10 in the morning, and train from 12-2, you eat, recover, you get back out at, and train from 6-8, and now go home, shower, eat dinner, go to bed, wake up and do it again.¨
That may seem like a lot of work in one day for most people, but for Kobe Bryant that feels like a day off.
Scenario 2:
¨Now imagine you wake up at 3. You train from 4-6, go home, eat breakfast, relax, now you´re back at it again 9-11, you eat and relax, then, you´re back at it again 2-4, and back at it again 7-9.¨ 
Passionately, he adds, ¨Look at how much more training I have done, by simply starting at four. And you do that routine, and as the years go on, the separation that you have with your competitors and peers grows larger and larger and larger.¨
Now… no one is expected to have the kind of work ethic that legend Kobe Bryant had. And that wasn´t the point of why he shared his routine with the world. He shared his routine to inspire others and emphasize the importance of hard work. He wanted to encourage the idea that we are capable of much more when our mind is set on something that we truly want.
Kobe Bryant lived with that schedule for the majority of his career. That is until he realized how important sleep was as he got older. He started to realize the impact sleep deprivation had on his performance in games. From that point on, he made adjustments to his schedule so that he could have an even better career moving forward. 
Be a Little Kid
Kobe Bryant was taught at a young age to never be afraid to ask questions because it is one of the best and most simple ways to learn.
In the interview with Dr. York, Kobe adds how he was able to keep moving forward despite questions he had that could not be answered. ¨There are a lot of answers that I don't have…even questions that I don't have, but I'm just going to keep going, and I'll figure these things out as I go.¨
His sight is that failure doesn´t exist and is simply a figment of your imagination. Each time you make a mistake, the story continues, whether you fail or don´t fail, life goes on. With a mistake, you can learn from it and then try it again the next day, and the next day, and the story of your life continues. The only way he sees something as a failure is if one decides to not progress from their previous mistakes.
Kobe Bryant had a work ethic and mindset like no other, which helped him be as successful as he was. Kobe Bryant´s hard work and dedication allowed him to live his dream life as an NBA player, and not just an NBA player, but arguably one of the best in the world. The Black Mamba is second to none. Mamba Out.