The Ja Morant Situation
Ja Morant is one of the most popular players in the NBA, and is the best player on the exciting young Memphis Grizzlies. However, if somebody mentions the name Ja Morant today, what comes to mind is his off-the-court issues instead of his basketball skill. Morant has had multiple incidents with violence, which have put doubts on his future in the NBA.
There are multiple reports of Ja Morant using others to intimidate people on a whim. One occurrence of this was in summer of 2022, with him and a large group showing up to a shoe store to intimidate an employee that allegedly helped two white customers before Morant's mother. According to the employee, the group stayed outside the shop for an hour waiting for him, yelling threats the entire time. 
Another one of Morant's incidents occurred in the summer of 2022, and involved him punching a 17-year-old boy after a basketball game at his house. According to both parties, the boy threw a basketball at Morant, which led him to respond with his fists. No arrests were made, yet this event has further tarnished Morant's image.
The most famous and undeniable evidence of him doing wrong happened over Instagram Live, with him waving a gun around in a Denver nightclub after a game on March 4th this year. He was immediately suspended for this, missing eight games. He then went to a rehab program, publicly apologized, and it seemed the matter was concluded. However, what nobody expected was for him to do the same thing two months later, flashing a gun on his friend's Instagram Live on May 14th. Morant has since been suspended from all Grizzlies activities, and the NBA has yet to decide on a response, with urgency being lower as the Grizzlies' season is over.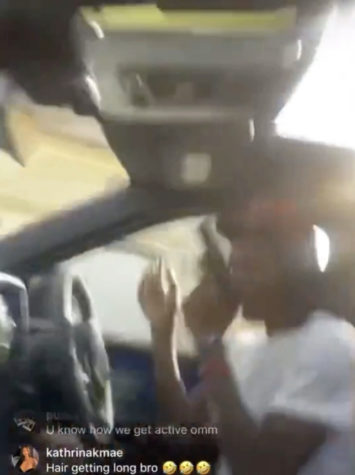 Besides suspensions, Ja Morant has also caused himself heavy financial consequences, with more being possible. Ja was cut off from his position as a spokesperson for Powerade after his first gun incident, being removed from an ad campaign only days away from launch. After the second gun incident, it is uncertain if he will be able to maintain his shoe deal with Nike, with the Ja 1s being removed from some of Nike's online stores. Nike cut off NBA player Kyrie Irving for other controversial issues less than a year ago, setting a precedent that makes it unlikely for them to support someone as divisive as Morant. 
By getting on the bad side of the NBA, Morant lost himself 40 million dollars. In order to be eligible for a super-max contract, a player must make one of the three All-NBA teams, which are made of the fifteen best players in the league that year. While Morant's play this season would have easily landed him on one, he was left off, almost certainly because of his first gun incident. As a result, he became ineligible for the 40 million dollar bonus he would have received on his already large contract.
With the consequences he has faced and the ones that could come in the future, it is unclear whether Ja Morant will be able to recover his losses, or if he will be willing to. His decision to wave a gun around for the second time may have scared off future sponsors for good, and he will have to do a lot to prove himself again.