Annabelle Movie Review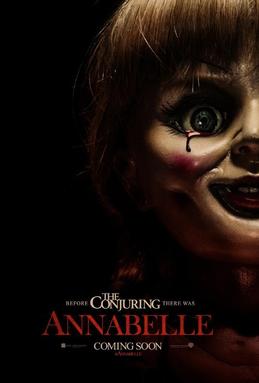 The new horror movie Annabelle, the prequel to the Conjuring, will have you sucking on your thumb and longing for your blankie.
Annabelle is the name of the doll in the movie, bought by John Gordon for his wife, Mia. Mia collects dolls, and Anabelle was the doll Mia had been looking everywhere for. Little did she know this doll would cause incomprehensible problems for John, Mia, and their new born daughter.  Anabelle immediately starts causing problems, and John and Mia decide to sell their house and move. However, the problems continue for the Gordon family. These problems will most likely make for a couple of sleepless nights, but if you are into horror movies, it is definitely worth it. If you really want to know what happens, you may just have to see it yourself.
Pentucket Junior Sam Coppola, who has seen Annabelle stated that "it [Annabelle] was the scariest movie I've ever seen at this point in my life."
However, as hard as it is to believe, some people did not find it incredibly scary. Pentucket Junior Sam Castle stated, "I overall did not like the movie. It was very predictable and because it was predictable it wasn't scary for me. I would not recommend it for others."
Annabelle did have a few predictable scenes, but the majority of the film had a suspenseful plot with an abundance of scenes that will make you jump out of your seat. I will say one aspect of the film that was poorly developed was the character development. This was mainly due to the fact that the two main characters did not do much to solve their issues and remained separated from one another during periods of time when stereotypical scary things happen, like nighttime. Other than that, the movie overall was affective and enjoyable.
Leave a Comment