Shady Sachem Making Waves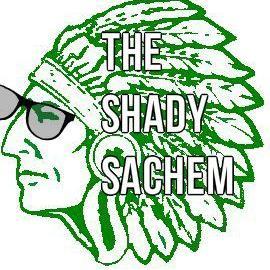 Now, I'm sure that most of you have seen, or at least heard, of the underground newspaper known as The Shady Sachem. This site has become widely popular among the students here at Pentucket. Part of the reason is because of the recent surge in school spirit after the recent success in Pentucket sports.
But what really opened the flood gates for the sites recent success was their article about the ludacris accusations against our students for being racist after they dressed in red, white and blue during the boys' basketball game against Greater Lawrence. Obviously this wasn't well received by the students of Pentucket, so what The Shady Sachem was able to do was write about it in a way that gave our side of the story and vented the frustration that has built up in all that were offended by such accusations.
Ever since then the site took off. What they have been able to do is write in a style that can relate to the students here at Pentucket. They don't have any guidelines or boundaries; they just write about current happenings in Pentucket and put it in a student's perspective without worrying if it will be negatively received by the administration here at Pentucket.
But what happens when the three writers graduate? They are recruiting, but they all are seniors and are graduating in less than 3 months. Once they graduate, and they fail to recruit any underclassmen to succeed them, then the site will eventually die off.
However, until that happens, the students here will be treated with funny yet insightful articles about their school.
Leave a Comment