News or Noise? Kim Kardashian Robbery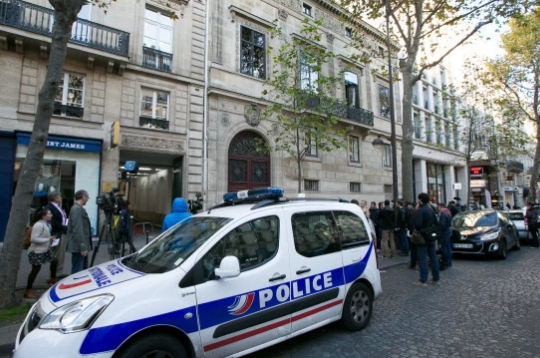 On October 2, 2016 Kim Kardashian was allegedly robbed in Paris, France at gunpoint by a European gang of five men. The five men threatened the concierge and forced him to lead the assailants to Kim's room. After forcing their way into the room, the two robbers at Kim's hotel stole approximately 11 million dollars in jewelry, including Kim's 4.46 million dollar wedding ring given to her by husband Kanye West.
This "heist"makes us wonder: Is the Kardashian robbery News or Noise?
In case you are unaware, Kim Kardashian is an American model, TV star, and socialite who is married to famous hip-hop artist Kanye West. Kim is also famously known for being the daughter of Robert Kardashian, defense attorney and friend of O.J. Simpson and famous mother/manager Kris Jenner, who after divorcing Robert Kardashian in 1991 married famous Olympian Caitlyn Jenner, formerly known as Bruce. Kim has five siblings: Kourtney, Khloe and Rob Kardashian, as well as two half siblings Kendall and Kylie Jenner. All of these siblings also starr on popular reality show, "Keeping Up With the Kardashians."
One may wonder, why would a celebrity of this caliber be left alone in a hotel room? Where was Kim's 6'4", 264 pound bodyguard Pascal Duvier? It is reported that Kim's bodyguard was out "clubbing" with superstar sisters Kourtney Kardashian and Kendall Jenner.
Kim seems to have had an awful week; just a week earlier, she was rushed by prankster Vitalli Sediuk who tried to kiss her behind while outside a restaurant on September 30th.
There is no way a celebrity of Kim's caliber would ever be left alone in this manner. Many people have began to notice that these two controversial events happened to Kim just a couple of weeks before the new season of the family's hit show "Keeping Up With The Kardashians" premieres.
@jbritts on twitter feels the same, " I feel bad for anyone who believes this Kim K story is real. #STAYWOKE america…"
Many are beginning to believe the hoax is a publicity stunt, and I feel the same. Kim Kardashian's robbery is most definitely not news, but noise.