Pentucket Group Joins the Fight for Changing Gun Laws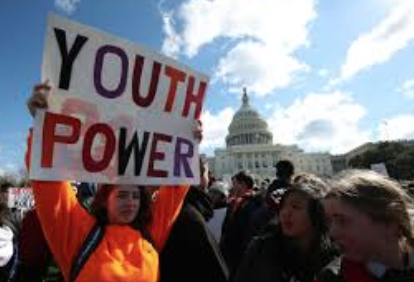 Across the country, students are calling for lawmakers to put an end to gun violence in wake of the Parkland, Florida school shooting. A series of walkouts have occurred in numerous schools, and a profuse amount of protests have already taken place. In response to these events, a few students at Pentucket have joined together and formed a group committed to discussing the issues of gun violence.
The group consists of eight students and two teachers who wish to help educate others on the topic of gun violence. Every Tuesday afternoon, these students meet in Mr. Siegfried's room after school, where recent events and current gun laws are debated and widely discussed among the members.
Megan O'Keefe, one of the group's founders, believes that students should have a voice in what is happening in the country regarding current gun laws. She created the group in hopes of trying to get her opinions as well as others' opinions to be heard. One of her goals was to gain accurate information about gun violence. "Even though we're not old enough to vote, we should have some say," O'Keefe said. "It's our lives being affected."
While the group is still developing their opinions on the topic of gun violence, one of their priorities in their first meeting was to establish a concrete proposition they were all able to agree on. The issue of gun violence, in their opinion, is not "black and white." Some beliefs they formed were that gun dealers and law enforcement should have more intensive background checks; gun rights should not be based on a person's level of education; and that those who are not mentally capable of handling weapons should not be able to obtain firearms.
As the group examined how students could help prevent school shootings, the idea of promoting positivity throughout the school was widely accepted. They believed that school shooters feel "outcasted" and are "outside the group." Many felt that small acts could create a big difference, and thought that the community could be more inclusive to others.
The Next Steps: Reaching Out to Representatives
The group's next plans are to bring issues of gun violence in schools and communities to local representatives and senators. Some town representatives have already contacted the students. A few of the members of the group, Ella Mooradian, Megan O'Keefe, and Alex Borzi, have even met with Leonard Mirra, the state representative for the Second Essex District to confer about how gun violence in schools could be stopped.
During the meeting, multiple people expressed varying views on the issue. Two members of the Massachusetts North Shore Chapter of Moms Demand Action for Gun Sense in America, more commonly known as Moms Demand Action, attended. Moms Demand Action is a group of people who formed in response to the Sandy Hook Elementary School shooting in 2012. Their main goals include preventing minors from obtaining guns, recognizing the risks with teenagers, and helping educate others in the topic of gun violence. Two local gun owners partook in the meeting as well.
Prior to the meeting on March 22nd, Mirra had met with various groups that held different opinions on the recent events. Some had argued that it would be best to enforce stronger gun control laws, while others believed that allowing the public to be armed would help prevent shootings. However, all of the groups Mirra had conversed with had agreed that there should be more focus on finding a common ground in order to bring the issues of gun violence to legislation.
The informal gathering, which was hosted by Mirra, was organized in order to gain the three students' perspectives on the recent events of gun violence and share their concerns. They also wished to set an example of how "open dialogue can be an avenue for positive change. "
Student mental health was the pressing issue that was discussed during the meeting. The group concurred that schools should focus on students in need and address the concerns of  the families of those students. It was agreed upon by all members of the meeting that students feel a sense of reluctance to go to guidance counselors as some students feel that they are not the school's main priority. School psychologists, however, were believed to be able to help students on a more personal and psychological level. It was then determined that the need for psychologists was an urgent issue in school systems.
As students continue to battle with lawmakers over gun violence in schools and communities, a small group of students at Pentucket are dedicated to educating their fellow students on the matter. By working with local grassroot organizations, these students were able to craft solutions designed to prevent school violence.