Alice @ Wonderland The Musical … With a Funky Twist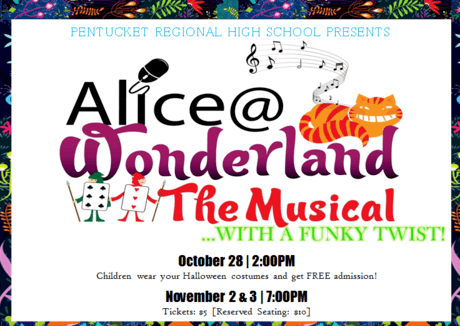 Looking for a light hearted and fun experience? Come to Alice @ Wonderland The Musical With a Funky Twist, on Oct 28 at 2:00 and Nov 2 and 3 at 7:00 at Pentucket Regional High School.
Almost everyone has either heard of or read Alice in Wonderland, by Lewis Carroll, but this play offers the same plot line with a more modern feel. Alice lives in the modern era, meaning she has a phone and has typical apps such as Twitter. Nevertheless, she finds herself in the Wonderland of Old, after dreaming of it, and of course there are no electronics. Alice deals with similar problems to the ones in the original story, but they relate more to modern day. The music too makes the musical more modern, and was created by Bill Francoeur, who has composed over 100 musicals.
The play will be performed by students attending Pentucket Regional High School. Both middle and high school students participate. One actress, Paige Deboyes, says that the actors are "mostly freshman and sophomores."
Playing the lead roles are Emma Walsh (sophomore) who plays Alice, Ella Moradian (sophomore) who plays the Mad Hatter, and Molly Forget (junior) who plays the Queen of Hearts.
Deboyes, who plays a flower Daisy, also says that, "I really like the play … and the songs are really weird, and my favorite song is one that meows the whole time."
Critics say that the play is "A sharply told, crisply paced ride, this quality adaptation has been praised for its humor, artistic modern style and appeal to both children and adults" (Pioneer Drama).
The director of the play is Rachel McGowan, the theatre arts and public speaking teacher here at Pentucket. Typically, McGowan directs a drama in the fall and a musical in the spring. However, this year she has decided to do a musical in the fall as well. She has produced a multitude of different plays including The Little Mermaid, Damn Yankees, and many more.
Tickets are $5 at the door and $10 for reserved seats that must be bought before the show you plan to attend. But, for the show on Oct 28, all children dressed in costumes got in for free! Be sure to make it to the last two shows, and enjoy the performance.