Modern Family Season 10
Twitter and various other social media outlets were blasted with opinions when Modern Family, a sitcom on ABC, aired their annual Halloween episode, this one titled "Good Grief," which would shatter some fans' hearts.
It was revealed on Oct. 2 that DeDe Pritchett, played by Shelly Long, had passed away peacefully in her sleep after co-creator Christopher Lloyd announced to Entertainment Weekly in September that "a significant character" in the show would die this 10th season.
This news left fans predicting who would be the one to go.
The Halloween episode zoomed right into the death, where Claire Dunphy, played by Julie Bowen, rushed into the foyer to relay the message to her husband Phil, played by Ty Burrell. She told Phil that she just received a call from her mother's husband, and announced "my mom is dead." DeDe Pritchett was the beloved mother of Claire and Mitchell Pritchett. Her ex-spouse is Jay Pritchett, who is played by Ed O'Neil. She only appeared in seven episodes of the total 215, so fans were less than distraught after the unexpected death was revealed. They thought the death was not major enough to be worthy of the dramatics of Lloyd's tweet.
Modern Family's first episode aired on Sept. 23, 2009 and the show has been popular ever since. As one of the most beloved yet emotional comedies, the show has been a part of some fans lives for years. While every family has its struggles, the show never fails to show the good and bad times of the Dunphy-Pritchett family.
The show is the story of Jay Pritchett and his two kids lives. Jay is married to his new wife Gloria, played by Sofia Vergara, a Columbian who brings some early conflict to the family. Her son Manny Delgado, played by Rico Rodriguez, was an addition to the family who came from a previous relationship of Gloria's.
Claire Dunphy, Jay's daughter, is married to Phil Dunphy and they have three kids, Hailey, played by Sarah Hyland, Alex, played by Ariel Winter, and Luke, played by Nolan Gould.
Meanwhile, Jay's son Mitchell, played by Jesse Tyler Ferguson, is married to his husband Cameron Tucker, played by Eric Stonestreet. They have an adopted daughter together Lily, who is played by Aubrey Anderson-Emmons.
With their epic and experienced cast the show portrays a relatable family to millions across the globe.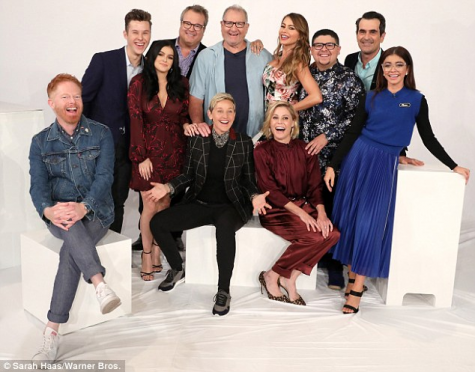 For the fans left unimpressed by the season ten plot twist, Hyland did reveal to a  Hollywood reporter, "a bigger thing than death," is approaching. While this news leaves fans with unanswered questions, it does make them keep coming back for more.